What Happens When the President and the Fed Move in Opposite Directions?
by and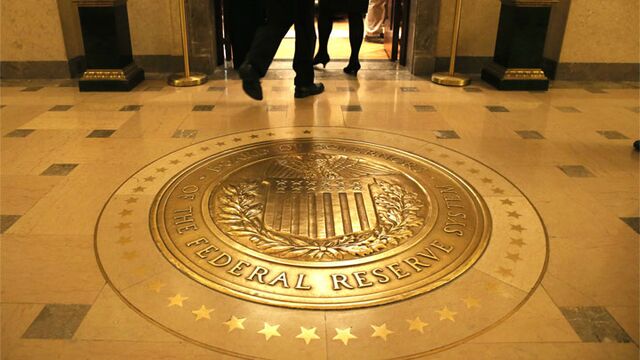 Federal Reserve Chair Janet Yellen may well be thinking it. Jeffrey Lacker, president of the Richmond Fed, came close to saying it. "A more stimulative fiscal outlook usually warrants higher policy rates," Lacker said a week after Donald Trump won the presidency. Translation: Trump's plans to stimulate economic growth could inspire the Fed to move in the opposite direction. Such a move, which would put the U.S. president and its central bank at odds, is called a monetary offset.
1. What's a monetary offset?
An effort by a central bank, which guides monetary policy, to use an increase in interest rates to tamp down economic growth spurred by spending or tax cuts -- the fiscal policy -- of its government.
2. Why is it in the news?
Trump takes office on Jan. 20 and has pledged both a $550 billion program of infrastructure improvements and an across-the-board tax cut -- a massive fiscal expansion, in other words. If, as many suspect, inflation makes a long-delayed resurgence under Trump, the Fed may speed up its plan to raise interest rates.
3. Who's pushing the idea?
Inside the secretive Fed, it's hard to tell. Maybe nobody. Officials have said they can't assess Trump's plans without more details. But economists outside the Fed, including ones at Goldman Sachs Group Inc. and Standard Chartered Plc, have suggested that the Fed will be more aggressive in hiking rates because of Trump's agenda. Yellen has offered fuel for such talk with comments like this one from her Dec. 14 press conference: "I would say at this point that fiscal policy is not obviously needed to provide stimulus to help us get back to full employment."
4. What's the case for a monetary offset?
Having conducted the largest monetary stimulus in its history, the Fed considers the economy pretty close to fully recovered and has now raised interest rates twice in 12 months. Yellen told Congress that while a big fiscal stimulus would have been helpful earlier, big tax cuts and spending increases could worry investors. Other officials have said that too much stimulus could push inflation above the Fed's 2 percent target.
5. What does the market say?
Higher borrowing costs and a rising currency since the election suggest that investors are factoring in a monetary offset after Trump takes office.
The Reference Shelf
Before it's here, it's on the Bloomberg Terminal.
LEARN MORE