Macron Seeks French Presidential Sheen With Berlin Speech
By and
French candidate to meet Vice Chancellor Sigmar Gabriel

Germany-France partnership central to EU's future success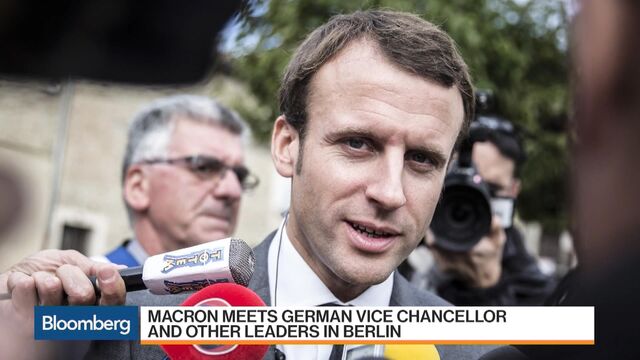 Presidential hopeful Emmanuel Macron makes a campaign stop Tuesday that has become obligatory for most French candidates even though there are few votes on offer there: Berlin.
In third place in the polls behind the Republican candidate Francois Fillon and the National Front's Marine Le Pen, Macron, an independent centrist, will give speech on European policy at Humboldt University before meetings Wednesday with economists, labor activists and politicians including Vice Chancellor Sigmar Gabriel. Gabriel runs economic policy for Chancellor Angela Merkel, the same portfolio that Macron held under Francois Hollande in France.

With the U.K. preparing to leave the European Union and U.S. foreign policy shifting under Donald Trump, France and Germany are being pushed closer together despite their differences. Whoever wins the French presidency may have to act as a counterweight to Germany on issues such as budget discipline, foreign policy or EU integration, hampered by the fact that the French economy is consistently lagging that of its neighbor.
"The new German hegemony in the euro zone is built on economic strength and Hollande was deeply constrained by that," said Antonio Barroso, an analyst at Teneo Intelligence in London. "French leaders need to show they sit at the top table with the Germans. Whether they can get anywhere depends on the domestic situation."
As a symbol of Europe's success in ending the divisions of the Cold War, Berlin has become a favorite backdrop for emerging politicians looking to establish themselves as international players. Barack Obama chose the city to make a key foreign-policy speech during his 2008 presidential campaign. 
Others make the trip for reasons of Realpolitik. Theresa May made the German capital one of her first trips after taking power in the U.K. last year, and Chancellor of the Exchequer Philip Hammond is also in town Tuesday, for talks with Finance Minister Wolfgang Schaeuble.
Le Pen's Challenge
Both Macron, as Hollande's adviser and then economy minister, and Fillon, who was prime minister for five years until May 2012, sought consistently to work with Merkel-led governments despite notable differences on subjects like the economy and military intervention in Libya. Fillon will travel to Berlin Jan. 23 and as former prime minister in an allied European party plans to meet Merkel.
"People need to understand that the best way to create room for maneuver domestically is to have knowledge and contacts internationally," Sylvie Goulard, a European lawmaker traveling with Macron, said in an interview. "The international dimension needs to be better taken into account in French politics."
Marine Le Pen has a different strategy. In her new year's address last week, she said her goal is to take back what she called "the four sovereignties" -- border controls, economic policy, money and legislation. France should dump the euro and return to a national currency, though the exchange rate could be linked to some sort of European currency mechanism, she said.
"I'll give six months to these talks, and if at the end we have won back our sovereignty, I will tell the French to vote to stay in this Europe of nations and liberty," she said Jan. 6. "If we don't, I'll suggest that they vote to leave."
Before it's here, it's on the Bloomberg Terminal.
LEARN MORE