Kelly Distances Himself From Trump Over Border Wall, Russia
By and
Retired general on Capitol Hill for nomination hearing

DHS nominee 'has no problem speaking truth to power'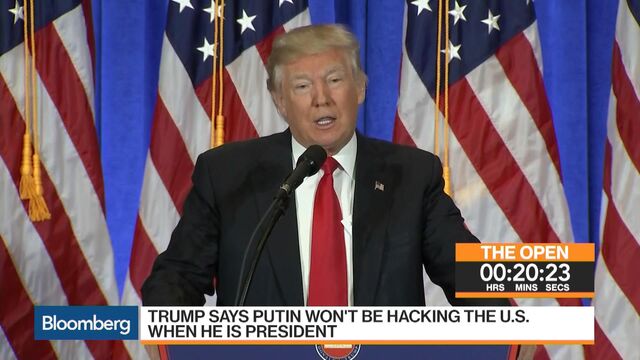 President-elect Donald Trump's nominee for secretary of Homeland Security outlined differences in opinion with his future boss on border security and on Russia's involvement in the 2016 election and promised "full candor" to a congressional committee considering his appointment.
Retired Marine Corps General John Kelly, known for his blunt talk about threats to the country, distanced himself from Trump early in questioning at his confirmation hearing Tuesday before the Senate Committee on Homeland Security and Governmental Affairs. He said that a wall is not sufficient to protect the U.S.-Mexico border and that he agrees "with high confidence" in the intelligence community's assessment that Russian President Vladimir Putin tried to influence the presidential race.
"A physical barrier in and of itself will not do the job" at the border, Kelly said. Instead, he favors a "layered defense," including the use of border patrol agents and technology such as drones that would work in "places that perhaps the wall can't be built or will be built any time soon."
Deportation Powers
In written testimony responding to questions from committee members, Kelly said he has discussed the wall "only briefly" with Trump, whose views in their conversation were consistent with his campaign promise to build one. Kelly also wrote that he wants to "rapidly" process deportations of undocumented immigrants. Under current practice, he said, "virtually all illegal aliens get a pass until they commit, and are convicted of, a violent crime" but he believes that existing laws would give him the authority, if confirmed, to deport any "foreign nationals without legal status."
If confirmed, Kelly, 66, would oversee a range of agencies including the Secret Service, Coast Guard, Federal Emergency Management Agency and Customs and Border Protection. Kelly, the former head of U.S. Southern Command, would be the first former general to lead the Department of Homeland Security since its creation following the Sept. 11, 2001 terror attacks. He and Trump have said they both see that experience as an asset.

"I have never had a problem speaking truth to power, and I firmly believe that those in power deserve full candor and my honest assessment and recommendations," Kelly said in his opening statement.
For a QuickTake Q&A on the confirmation process, click here
Vouching for Kelly after decades of work together, former Defense Secretary Robert Gates described the DHS as "much like a combat command, perhaps the most complex such command" and said that there is "no one more familiar or qualified" than Kelly to fill the post.
Lawmakers from both sides of the aisle vouched for Kelly's reputation as a truth-teller. Delaware Senator Tom Carper, a Democrat, said that while one may not always agree with Kelly, he "always tells us what we need to hear."
Wisconsin Republican Ron Johnson, the chairman of the committee, in a statement before the hearing urged the Senate to move to quickly confirm Kelly once Trump is inaugurated Jan. 20, noting that Janet Napolitano was confirmed by voice vote on the same day that President Barack Obama was sworn in.
Putin's Plans
Trump chose Kelly over other candidates, including Texas Representative Michael McCaul, because he was seen as being tough on border issues, warning not just of the influx of undocumented immigrants at the U.S.-Mexico border but of the potential for drug trafficking and terrorism.
Yet immigration at the southern border is becoming more complicated since a growing number of people apprehended there are coming from Central America and seeking asylum. This poses new challenges for immigration officials since people seeking asylum typically approach the frontier and surrender to border control agents as opposed to trying to sneak between official ports of entry and evade law enforcement.
That means that a wall and surveillance technology might be of limited use to address those coming from Central America. Kelly acknowledged that solutions to solving the current challenges along the southern border will involve greater cooperation with nations south of Mexico.
"I believe the defense of the southwest border really starts about 1,500 miles south, as far south as Peru really," he said.
Kelly and Trump appear to have even more dramatic differences in their views on Russian President Putin's intentions.
"Russia is using power projection in an attempt to erode U.S. leadership and challenge U.S. influence in the Western Hemisphere," Kelly said in a 2015 statement to the Senate Armed Services Committee. "We have seen a clear return to Cold War tactics" under Putin, he said at the time. He said in his written testimony Tuesday that he still agrees with that assessment.
Trump called Putin "very smart" in a Dec. 30 tweet and said it was a "great move" when he declined to eject U.S. diplomats from Russia in response to punishments President Barack Obama announced for for its election-related hacking. Obama closed two Russian diplomatic facilities in the U.S. and declared dozens of diplomats the U.S. considered spies to be persona non grata.
Before it's here, it's on the Bloomberg Terminal.
LEARN MORE