France's Macron Presses Europe Defense as U.S. Leadership Shifts
By
Two-day trip to Berlin seeks to build statesman image

Former Hollande minister pledges 'strong' economic reform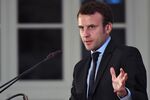 French presidential candidate Emmanuel Macron called for European countries to step up defense cooperation in a speech setting out the case for greater regional sovereignty in view of shifting U.S. leadership and a Russia with different "values."
"The U.S. is completely changing its strategy and it's not due just to the election of Mr. Trump," Macron told students at Humboldt University in Berlin. "Today we are in a situation where Europe has to defend its own interests regarding security and the Middle East. We have to re-build a European strategy."
Macron, a former economy minister under Francois Hollande who is running third in the polls behind the Republicans' Francois Fillon and National Front leader Marine Le Pen, is spending two days in Berlin to bolster his credentials as a statesman and seek support.
Expanding beyond his traditional remit of economic policy, Macron argued for common policies with Germany on everything from cyber defense to managing refugees and migrants. European efforts to create a common border service are good but need to go much further, he said.
"I could tell you that Europe is out of date -- it would be easier. Talking about turning the tables and using hard talk against Germans seems to be great politics in my country," he said. "But we need a political willingness to move forward."
At the same time he acknowledged that re-building trust on economic issues between France and Germany is the key to addressing the region's problems and predicted that if economic imbalances aren't addressed, the euro won't survive for another 10 years. Macron said that in office he would back "strong" reforms, including of the labor market.
"There is a French responsibility to fix the situation," he said. "I will assume my responsibilities. France will assume its responsibilities. And I do trust Germany."