Ellen Pao Returns to Venture Capital After Gender-Discrimination Fight
She's joining Kapor Capital as a venture partner while also working on diversity efforts.
By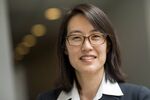 Ellen Pao, whose 2012 lawsuit against her former venture capital firm sparked a debate about gender equality in Silicon Valley, is returning to the world of startup financing.
Pao will become an investing partner at Kapor Capital, an Oakland, California, VC firm that lists Uber Technologies Inc. and Alphabet Inc.'s Dropcam among its investments. She will also serve as chief diversity and inclusion officer at Kapor Center for Social Impact, a foundation working to use technology to improve life in the U.S.
Both firms were started by Mitch Kapor and Freada Kapor Klein, longtime technology industry fixtures who advocate for diversity. Kapor Capital's seed-stage investing fund often asks that companies in its portfolio implement plans for promoting diversity and mitigating bias.
"It's the culmination of my interest and my experience, and the ability to work with Mitch and Freada and their team is really amazing for me," said Pao. "I think it's a huge opportunity."
Pao's gender discrimination and retaliation suit against her former employer Kleiner Perkins Caufield & Byers, which she lost in 2015, shed light on the inner workings of a top investing firm and made Pao a symbol for working women in tech. After the high-profile suit, she pushed for more diversity in the VC world.
Amid the lawsuit, Pao joined the social media startup Reddit Inc. and later took over as interim chief executive officer. She tried to tamp down harassment on the freewheeling online forum, efforts that were unpopular among many on the site. She spent less than a year in that role before resigning in 2015.
Since then, Pao has been working on promoting women and underrepresented minorities in Silicon Valley. She co-founded Project Include, a group of diversity advocates who have published best practices for tech companies. She also spent some of her time as an angel investor and built up a portfolio of companies, many of which are run by women, people of color and immigrants.