China Joins Davos as Trump Presidency Vies for Spotlight
By and
World Economic Forum agenda shows worry over populism, trade

China's Xi to attend as Merkel, U.S. leaders stay home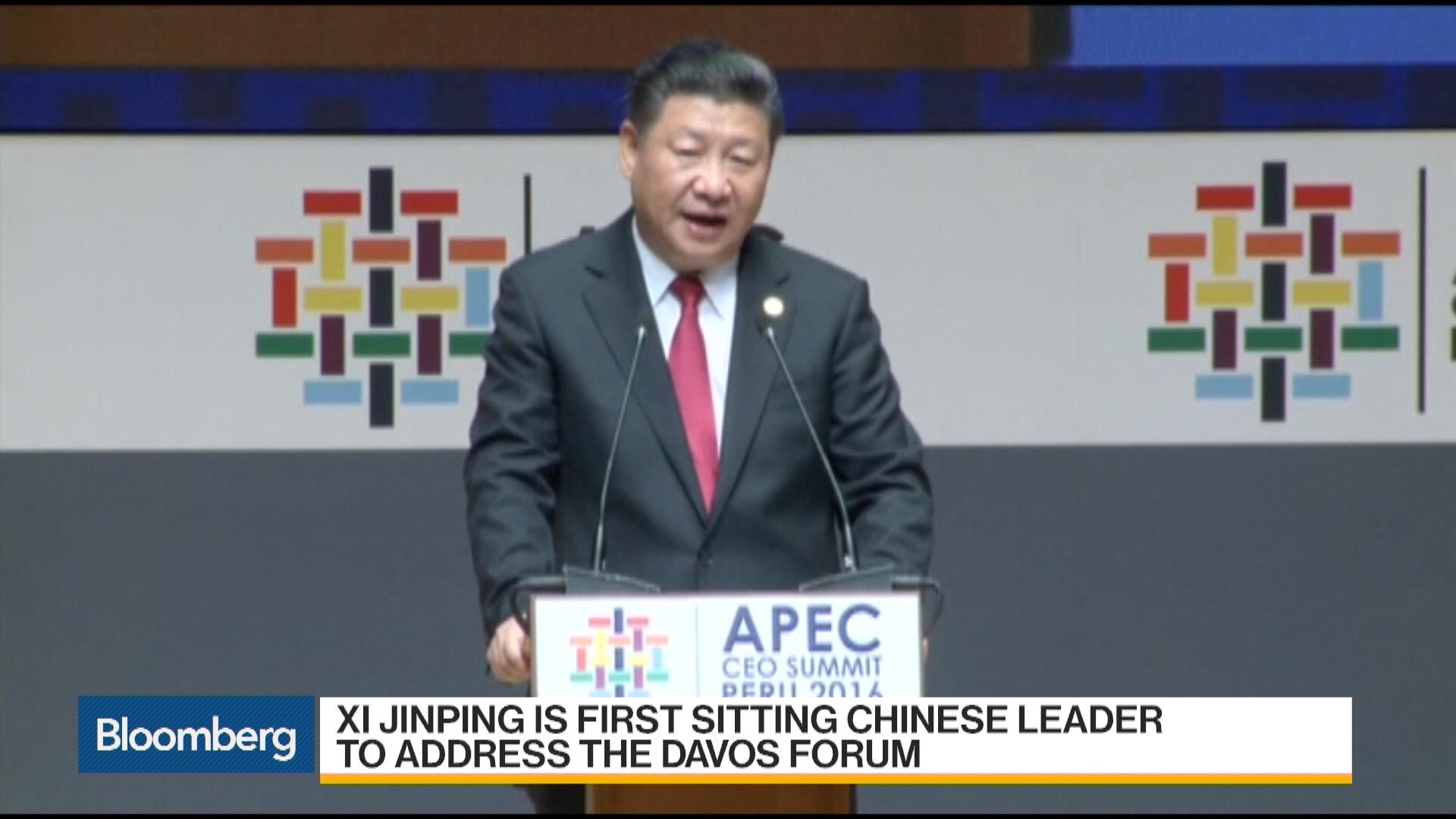 The Davos elite gathering next week behind metal detectors in a concrete bunker in the Swiss Alps to discuss the state of the world will be isolated in more ways than one.
The roughly 3,000 business, political and academic leaders attending the World Economic Forum's annual meeting from Jan. 17-20 will find themselves further outside the political consensus than ever before, after a year that saw backlashes against "elites" roil politics on both sides of the Atlantic. Even as equity markets surge on the bet that U.S. president-elect Donald Trump will usher in an era of deregulation, his inauguration on the final day of the Forum will remind attendees of the arrival of an aggressive new populist-in-chief.

The swearing-in ceremony is scheduled to kick off in Washington at 11:30 a.m., about the time that 4,200 miles away, Davos attendees including Microsoft Corp. Chief Executive Officer Satya Nadella, General Motors Co. CEO Mary Barra, and World Bank president Jim Yong Kim will be contemplating the event's slate of Friday-evening parties.
"You may be overwhelmed by the complexity of the annual meeting," World Economic Forum founder Klaus Schwab said Tuesday at a press conference at the organization's headquarters. "But let's face it, every simplified approach to deal with the global complex agenda, is condemned to fail. We cannot just have populist solutions."
The most high-profile guest by far will be Chinese president Xi Jinping, the first sitting Chinese leader to attend the event. He's heading a larger-than-ever delegation of business executives from the world's second-biggest economy, underscoring China's determination to assume a global leadership role as other major powers are hobbled by domestic infighting.

China's two richest citizens, Alibaba Group Holding Ltd. founder Jack Ma and Dalian Wanda Group Co. Ltd CEO Wang Jianlin, will join him and appear in solo on-stage interviews. China's deepening engagement with the world will, meanwhile, be the subject of a discussion on "China's Role for Global Prosperity," in which stock-market regulator Fang Xinghai and state-assets chief Xiao Yaqing will appear alongside Lloyds of London Chief Executive Officer Inga Beale.
"We are now on the road to transition to a multipolar geo-political and geo-economic structure," said Schwab. "China will equal the United States soon as far as economic power is concerned, so I foresee that President Xi will show how China will assume in global affairs a responsive and responsible leadership role."
Xi's attendance contrasts with a long list of Western leaders who won't be making the trip this year. German Chancellor Angela Merkel, who faces a difficult re-election campaign later in 2017, is staying home, as is Canadian Prime Minister Justin Trudeau. Israeli Prime Minister Benjamin Netanyahu canceled a scheduled appearance, and with current cabinet and diplomatic appointees packing their bags and their replacements awaiting Senate confirmation, the U.S. is sending almost no high-level representatives.
Rubbing Shoulders
To be sure, other countries aren't shying away. Pakistan's Prime Minister Nawaz Sharif will be going, and may rub shoulders with the Netherlands' Mark Rutte and Vietnamese Prime Minister Nguyen Xuan Phuc. Monetary policy makers looking for clues about how to manage an increasingly volatile global economy will also be out in force, including Brazilian central bank governor Ilan Goldfajn and Benoit Coeure of the European Central Bank.
Meanwhile, hedge fund titans scheduled to attend will be pressed for their forecasts on whether global equities, which are trading near record highs, can sustain their rally under Trump. They'll include Blackstone Group LP's Stephen Schwarzman, Bridgewater Associates founder Ray Dalio and Moore Capital Management CEO Louis Bacon.
The bewilderment and concern of the Davos set with global political developments will be laid bare in the agenda of discussions. One session will be devoted to "the psychology of populism," while another will offer thoughts on "cultivating appropriate emotions in a time of nationalist populism." Former U.S. House Majority Leader Eric Cantor will headline a session entitled "Politics of Fear or Rebellion of the Forgotten," in which he'll debate the roots of voter outrage with German Defense Minister Ursula von der Leyen and Liam Fox, the minister responsible for developing the U.K.'s post-Brexit trade links.
Rabble-Rousers
Absent from the event, though, are the rabble-rousers who've been at the forefront of that populist surge. National Front leader Marine Le Pen, who wants to take France out of the eurozone, and former U.K. Independence Party leader Nigel Farage, who helped lead the successful Brexit campaign, are staying away.
Still, not all will be doom and gloom. The Forum's largest venue on Jan. 18 will host an attempt to stoke optimism, a discussion on "A Positive Narrative for the Global Community" with Facebook Inc. Chief Operating Officer Sheryl Sandberg and Meg Whitman, the CEO of Hewlett-Packard Enterprise. The break will be brief; 45 minutes later, delegates will debate whether the trans-Atlantic alliance that underpins European stability is at risk as "the bonds of trust and common values" fray.
For more on Davos, see our special report on the World Economic Forum 2017.
— With assistance by Albertina Torsoli
Before it's here, it's on the Bloomberg Terminal.
LEARN MORE