China Car Sales Climb at Fastest Pace in 3 Years on Tax Cut
Bloomberg News
Tax cut on smaller-engine cars boosted demand by 15.9% in 2016

Analysts see slowing sales growth in 2017 on tax hangover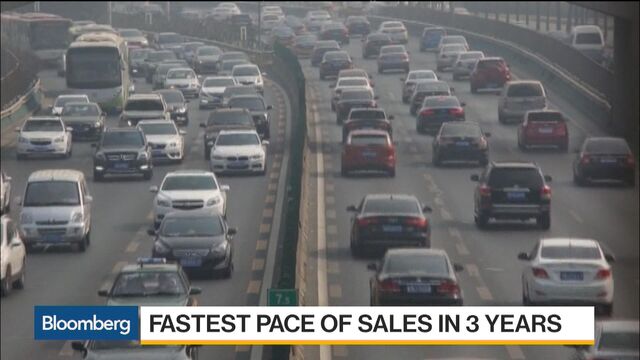 Consumers in China bought passenger vehicles at the fastest pace in three years to take advantage of a tax cut on small-engine automobiles, boosting deliveries of automakers from General Motors Co. to Great Wall Motor Co.
Dealerships sold 23.9 million cars, sports utility and multipurpose vehicles last year, capping a 15.9 percent gain, according to data released Tuesday by the China Passenger Car Association. The government had halved a 10 percent sales levy to jumpstart demand, leading to the biggest rate of increase since 2013, when China became the first country where 20 million new vehicles were sold in any given year.
"It's like a giant who needs medicine to sustain his health," said Xiao Zhengsan, secretary-general of the China Automobile Dealers Association. "Which means the world's biggest auto market is not healthy enough to grow on its own."
With analysts projecting the first U.S. sales decline in years and with an increase in the sales tax in China to 7.5 percent, global automakers are facing a slowdown in demand in the world's two biggest vehicle markets amid rising protectionist rhetoric from President-elect Donald Trump, who has threatened a "big border tax" on vehicles imported from Mexico.

The original tax reduction in China on small-engine cars can translate to savings equivalent to a few months of gasoline on a new 119,800-yuan ($17,350) Ford Escort sedan, prompting buyers to bring forward their purchases. That helped clear inventory at dealerships, sending an index of vehicle stockpiles compiled by the China Automobile Dealers Association to the lowest since December 2013.
Deliveries of sport utility vehicles increased 44 percent in 2016 to 8.8 million units last year, the fastest-growing passenger vehicle segment, while sedan sales rose 5.4 percent to 12.1 million units, according to the Passenger Car Association data.
Analysts and industry association officials surveyed by Bloomberg expect total vehicle demand, including commercial vehicles, to slow to a range of 4 percent to 5 percent growth this year as a result of the increase in tax rate and consumers bringing forward their purchases. The tax hangover will affect Geely Automobile Holdings Ltd. and Great Wall Motor disproportionately given the majority of their sales are small-engine cars, according to Sanford C. Bernstein analyst Robin Zhu.
GM boosted deliveries by 7.1 percent to 3.87 million vehicles in China last year, led by demand for its popular sports utility vehicle models such as the Buick Envision, while Ford Motor Co.'s sales climbed 14 percent to 1.27 million units.
Geely posted a 50 percent sales increase in 2016 to 765,851 units, encouraging the company to set a sales target for 2017 at 1 million units. Great Wall Motor, China's biggest maker of sport utility vehicles, sold 1.1 million units of vehicles last year, an increase of 26 percent from 2015.
— With assistance by Yan Zhang
Before it's here, it's on the Bloomberg Terminal.
LEARN MORE