Brexit Bulletin: Orderly or Disorderly?
It's not about hard or soft Brexit anymore, you know.
By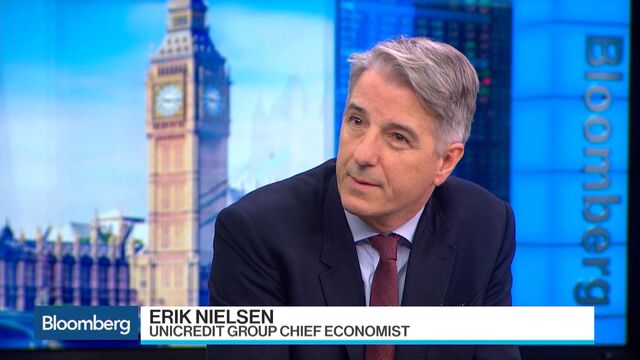 Sign up to receive the Brexit Bulletin in your inbox, and follow @Brexit on Twitter.
Theresa May was keen to stress on Monday she doesn't "accept the terms hard and soft Brexit."
Investors may need to move beyond them too, after spending much of 2016 trying to guess if the prime minister would go hard (by focusing on controlling immigration and lawmaking) or soft (by safeguarding trade).

Despite May's comments, the pound fell on Monday as markets decided the U.K. is going hard. 
"It looks almost certainly now like a hard Brexit, and the market doesn't like it," Erik Nielsen, global chief economist at Unicredit, told Bloomberg Television.
Chancellor of the Exchequer Philip Hammond later told RTE no decision had been made on the single market for goods and services.
Voters appear to like May's apparent priorities. Pollster ORB found 46 percent of Britons rank curbing immigration as more important than free trade with the EU, while 39 percent said otherwise.
German Chancellor Angela Merkel is also boxing her in, repeating on Monday that allowing May to cherry-pick the best bits of EU membership would have "fatal consequences" for the bloc.
Against such a backdrop, the alternatives now for investors are not hard or soft, but orderly or disorderly, according to Nicholas Spiro, a partner at Lauressa Advisory.
"What's at stake now is whether Brexit can be managed in a more or less orderly manner or whether the U.K. is going to crash out of the EU with dangerous consequences for both Britain and the rest of Europe."
An orderly Brexit would likely see the EU and U.K. find a common interest in maintaining tariff-free trade and sign up to a transitional phase until a pact can be agreed. Disorderly would mean the negotiations turn ugly and the U.K. ends up outside the bloc sometime in 2019. World Trade Organization duties would be slapped on trade with its biggest market and London-based banks would lose easy access to Europe.
Investors and politicians would like some more transparency when May sketches out her plan this month. "Given the need to build a broad-based support for its position, at home and abroad, the sooner the government can provide clarity the better," Conservative lawmaker Andrew Tyrie said.
Sell on May?
The pound's slide on Monday to its lowest against the dollar since October showed currency investors increasingly see May as a trigger to sell sterling.
Bloomberg's David Goodman highlighted how the currency has now fallen following two of the premier's major set piece events: her speech at the Conservative Party conference and Sunday's traditional new-year television interview. In both, May fanned speculation of a hard Brexit.

By contrast, the FTSE 100 Index keeps on climbing as a slumping sterling lifts foreign-biased companies. It is heading for a ninth successive all-time closing high. 

Corbyn Seeks Control
Jeremy Corbyn, the leader of the opposition Labour Party, on Tuesday supported controls on immigration from the EU as he seeks to attract both the pro-Brexit and pro-EU voters he needs to win power.

He also backed introducing a cap on high earnings to prevent inequality increasing. 
While saying that Britain must retain access to the single market, Corbyn demanded protections for workers and the funding for the National Health Service that was promised by Brexit campaigners before the June referendum, saying Labour "is not wedded to freedom of movement for EU citizens as a point of principle."
Labour trails May's Conservatives by more than 10 percentage points in polls. Many of its lawmakers outside London represent districts that voted to leave the EU, but the party also dominates politics in the strongly pro-"Remain" capital. Both camps fear losing their seats if the party gets its Brexit policy wrong.
Brexit Bullets
Foreign Secretary Boris Johnson says he hears in U.S. that U.K. will be "first in line to do a great free-trade deal"
Snap makes U.K. its tax hub as part of international expansion
Robert Walters says firms still hiring amid Brexit fallout
LSE Chief Executive Officer Xavier Rolet: Potential for systemic impact if Brexit mishandled 
HSBC CEO Douglas Flint: Standstill period before Brexit would be helpful
Availability of new workers in the U.K. fell in December, Recruitment and Employment Confederation says
EU Budget Commissioner Guenther Oettinger: U.K. will have to help pay for the pensions of British ex-EU civil servants
Irish Finance Minister Michael Noonan tells RTE Brexit talks may not start until June because of the French election
Premier Foods considering raising prices because of weaker pound, CityAm says
Assuring EU workers of citizenship rights would reduce "negotiating capital," Home Office says, according to Guardian
Trade Department reheated projects in claiming 16 billion of post-referendum foreign investment, FT says
Northern Ireland's Deputy First Minister Martin McGuinness resigns, complicating region's approach to Brexit
Bloomberg View's Mark Gilbert: Britain's dangerous post-Brexit borrowing binge
And Finally…

Brexit is proving to be plain sailing for British yacht-makers.
Sales in the U.K. leisure boat industry have risen to the highest level since the financial crisis as the weaker pound boosts exports, according to industry body British Marine.
U.K. makers of yachts and pleasure-boating equipment recorded a 1.6 percent increase in revenue to £3 billion ($3.7 billion) in the year ending April 2016, the highest since 2009.
"There are more and more people who can afford superyachts," Philip Popham, chief executive officer of U.K.-based Sunseeker International, told Bloomberg Television on Monday.
For more on Brexit follow Bloomberg on Twitter, Facebook and Instagram, and see our full coverage at Bloomberg.com
Before it's here, it's on the Bloomberg Terminal.
LEARN MORE