Mexico Needs New Peso-Saving Tools as Dollar Sales Sap Reserves
By , , and
Analysts agree central bank can't afford to spend safety net

Options include swaps, IMF credit extension, more rate hikes
Mexico's central bank, struggling to lift the peso from its record lows, is getting backed into a corner after spending $2 billion last week with little effect.
Recent dollar sales aren't helping boost the currency, foreign reserves are faltering and economists expect policy makers to raise interest rates again in February after five hikes last year. While some analysts say Mexico could try dollar swaps or increasing its credit line with the International Monetary Fund, they warn against depleting reserves. That could undermine investors' confidence and intensify the market selloff.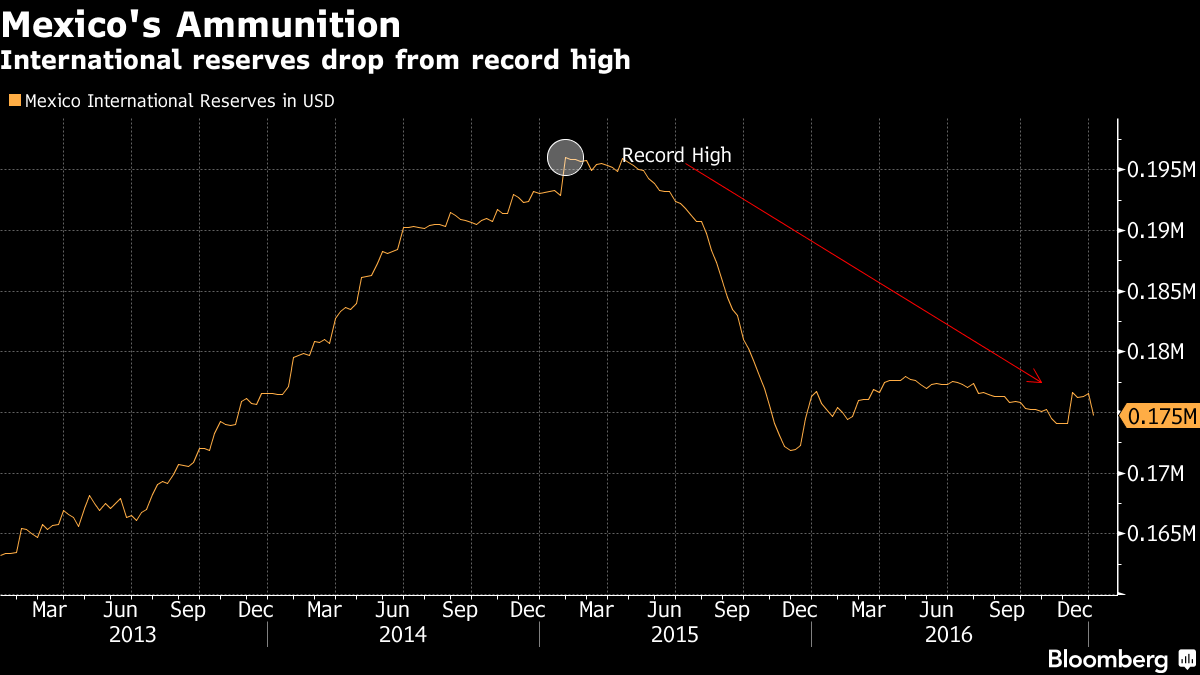 The transactions are draining international reserves that reached a record high two years ago. Last week, Banxico sold dollars for the first time since February after the peso tumbled to the lowest level since its redenomination in 1993 amid concern over the U.S. trade policy. After a short-lived rally, the peso's extended its worst performance among the world's 16 major currencies so far in 2017.
The pace of the dollar sales "is neither sustainable nor likely to work," said Christian Lawrence, a rates and currency strategist at Rabobank NA in New York. "It is very hard for a country to strengthen a currency."
The peso slumped 2 percent to 21.8067 per dollar at 5 p.m. in New York on Tuesday.
Ricardo Medina, a spokesman for Mexico's central bank, declined to comment about the bank's strategy to bolster the peso.
Should currency volatility continue to increase, the central bank could offer dollar swaps because they don't directly impact reserves and provide hedging protection, according to Goldman Sachs Group Inc. Negotiating an extension of the IMF credit line would also be a move in the right direction, said Barclays' Jaime. Mexico has $176.5 billion in foreign reserves or $260 billion in total if the IMF's flexible credit line is factored in, according to BNP Paribas SA. That gives it a $40 billion buffer to spend on interventions.
While investors would welcome any action by Banxico that could protect the currency without reducing its reserves, investors' confidence won't be fully restored until U.S. President-elect Donald Trump provides some clarity on the trade policy, said Mark Dow, the founder of Dow Global Advisors in Laguna Beach.
Before the election, Trump had campaigned on promises to tear up the North American Free Trade Agreement, crack down on illegal immigration, and build a wall along the southern border paid for by Mexico. The U.S. accounts for 80 percent of the Latin American nation's exports.
"People are afraid of what Trump might do to Mexico and Trump's negotiating style which, as it's been confirmed in recent days, is that before you even sit down at the table with him he's going to punch you in the face a few times," Dow, a former economist at the IMF, said. Investors "are mostly worried about Trump and when the punching will stop, I think that's what matters most."