Credit Suisse Sees Easy PBOC Policy Weakening China's Yuan: Q&A
By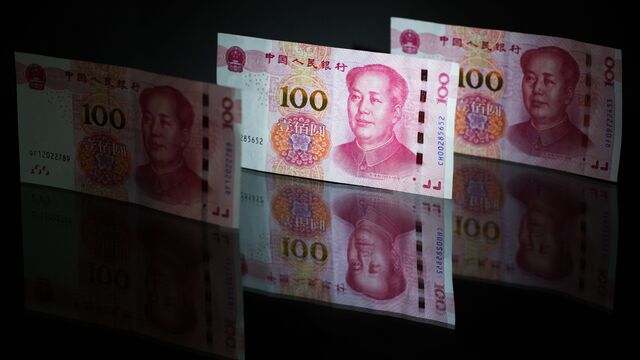 China is pursuing an overly loose monetary policy at a time when the U.S. is tightening, spurring outflows and putting excessive downward pressure on the yuan, according to Credit Suisse Group AG.
Real deposit rates are far too low for an economy growing at 6.5 percent to 6.8 percent and the yuan will face more weakness if inflation accelerates, said Ray Farris, the Singapore-based head of fixed-income research and economics for Asia-Pacific at the Swiss bank, which ranked among the best yuan forecasters in 2014 and 2015.

Farris forecasts the onshore yuan will drop more than 5 percent from Monday's close to 7.33 per dollar by the end of the year. That compares with the median estimate of 7.17 in a Bloomberg survey of analysts. He shared his views on China and the outlook for Asian currencies amid risks of a stronger dollar and trade tariffs as U.S. President-elect Donald Trump prepares to take office.
1) Why are you most negative on the yuan among Asian currencies?
"The problem in China is quite fundamental. Monetary policy is far too easy for stability in the currency. So, monetary base growth is high relative to nominal GDP. Credit growth and money growth are even higher, leverage continues to rise, and the economy is becoming more and more monetized, and that's happening in a world in which U.S. monetary policy is tightening."
2) Will China devalue the yuan and will it be used as a tool to retaliate against any protectionist trade policies by the U.S.?
"It's very clear to us the government doesn't want to devalue. China's government values stability across a wide range of variables and it would observe that sharp movements in the currency over the past couple of years have generated instability and speculation, not just outside China but particularly in China."
"The point is, from an external perspective one may view a potential devaluation as a way for China to retaliate against the U.S. However, one needs to think what the Chinese think about that option and recognize that the Chinese seem to believe that it isn't costless. Perhaps a weaker renminbi via a sharp move would disadvantage the U.S. but it would also come with undesirable costs of increased speculation, domestic instability in capital flows, and a deterioration of domestic confidence in the currency that the government doesn't want."
3) Which other Asian currencies are you bearish on?
"The other currencies that are somewhat vulnerable are the South Korean won and the Taiwan dollar. Korea would be highly exposed to any significant trade disruptions between the U.S. and China." That's because Korea supplies a lot of materials to China for its overall export basket, a lot of which will ultimately end up in the U.S., he said. It's also important to remember that Korea has a free-trade agreement with the U.S. and Trump has been critical of existing free-trade agreements.
4) Are there any Asian currencies that you see outperforming this year?
"We're more constructive on the Indonesian rupiah and the Indian rupee. We still expect both currencies to depreciate, but not as much as the forwards currently price. And a lot of that has to do with the fact that real interest rates in both countries are still somewhat historically high, more so in Indonesia. Our forecast is for both to cut rates one more time, but we stress that is now somewhat conditional on what the Fed does and how the dollar performs."
Credit Suisse predicts the rupiah will weaken 3.8 percent from Monday's close to 13,900 a dollar by year-end and the Indian rupee will drop 1.9 percent to 69.50 in the same period.
Before it's here, it's on the Bloomberg Terminal.
LEARN MORE