Trump Tags Streep 'Hillary Flunky' After Golden Globes Criticism
By
President-elect dismisses Hollywood actress as 'over-rated'

Meryl Streep criticized Trump as a 'bully' in televised speech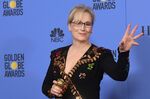 President-elect Donald Trump dismissed a critique by actress Meryl Streep, calling her "one of the most over-rated actresses in Hollywood" and a "Hillary flunky who lost big" and denying he imitated a disabled reporter in 2015.
Trump's self-defense early Monday on Twitter followed Streep's speech Sunday night at the Golden Globes award ceremony, in which she criticized Trump as a "bully" without naming him directly and called on the press to hold him accountable in office. Streep had supported Trump's opponent Hillary Clinton during the presidential race and spoke at the Democratic National Convention.

"There was one performance this year that stunned me," Streep said, recalling a Trump speech in 2015 in which he jerked his arms around as he spoke about a disabled New York Times reporter Serge Kovaleski. Trump has repeatedly denied he was imitating the way Kovaleski moves his body. "For the 100th time, I never 'mocked' a disabled reporter," Trump tweeted Monday, insisting he "would never do that" but was simply showing Kovaleski "groveling" after changing a story that made Trump look bad. That explanation was discredited in a 2016 fact-check by the Washington Post.
Streep said Kovaleski was "someone he outranked in privilege, power, and the capacity to fight back" and that "this instinct to humiliate, when it's modeled by someone in the public platform, by someone powerful, filters down into everybody's life, because it kind of gives permission for other people to do the same thing. Disrespect invites disrespect, violence incites violence. When the powerful use their position to bully others, we all lose."
Streep spoke while accepting a lifetime achievement award. She also has received three Academy Awards for her acting.
In response to her remarks, Trump told the New York Times in an interview Monday that "people keep saying I intended to mock the reporter's disability, as if Meryl Streep and others could read my mind, and I did no such thing."
"And remember, Meryl Streep introduced Hillary Clinton at her convention, and a lot of these people supported Hillary," Trump told the newspaper.
Trump on Monday also used Twitter to praise Rupert Murdoch as a "great guy," following a series of moves by Fox News in recent days seen as friendly to Trump.
Before it's here, it's on the Bloomberg Terminal.
LEARN MORE