Shale Gas Hands Cuomo N.Y. Nuclear Closure He's Waited Years For
By
Entergy says nuclear plant's closing due to economic reasons

Revenues have dropped as cheap gas sends power prices lower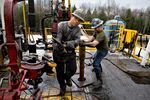 New York Governor Andrew Cuomo has won his years-long battle to force a nuclear power plant into early retirement. His greatest weapon? The shale boom.
Entergy Corp. said Monday that cheap natural gas flowing out of the Marcellus shale formation in the eastern U.S. had depressed power prices to the point where its Indian Point plant, just north of New York City, would start losing money. While Cuomo had fought for the plant's closure for safety concerns, Entergy said economic factors were behind the company's decision, announced Monday, to close the plant in 2021.

U.S. nuclear operators have seen their profits erode with the collapse in wholesale electricity prices amid a glut of gas and rising supplies of wind and solar power. Five nuclear power plants have shut in the U.S. in the past five years, and more are forecast to retire early, according to the U.S. Energy Department. With the closure of Indian Point, Entergy, once the second-largest nuclear operator in the U.S., will exit the wholesale power business.
"The primary driver of this decision is economics, not what the governor did," Bill Mohl, president of wholesale commodities at Entergy, said Monday during a press conference following the company's announcement of the planned Indian Point shutdown.

Entergy fell 2.9 percent to $71.09 in New York on Monday, making it the worst-performing member of the S&P 500 Utilities Index.
"Their communication about how poorly the plant was doing was certainly a negative," said Kit Konolige, a senior analyst for Bloomberg Intelligence in New York. Investors might have held some expectation that the company could have recovered more of their investment through additional payments from the state, he said.
Entergy projected forward power prices of about $35 a megawatt-hour through 2020 for the Indian Point complex, which would be "inadequate" to cover the increasing costs to run the site, Mohl said.
For more details on Entergy's decision to shut Indian Point, click here
Spot on-peak electricity for the Hudson Valley, or Zone G, on the state grid averaged a record low of $33.44 a megawatt-hour last year, losing almost two-thirds of its value since 2008, grid data compiled by Bloomberg show. Every $10 a megawatt-hour drop in wholesale rates cuts annual revenue by about $160 million for plants like Indian Point, Mohl said.
While New York's opposition to the renewal of licenses for the Indian Point reactors raised expenses and helped contribute to the decision to close the complex, it wasn't the determining factor, Mohl said.
Cuomo has supported measures that would keep reactors in upstate New York operating despite lower power prices. Those efforts -- in the form of payments for emissions-free nuclear energy -- probably wouldn't have been enough to save Indian Point, Mohl said.
"Obviously, Entergy is dealing with a low commodity price environment," said John Bartlett, who helps manage about $2.5 billion at W.H. Reaves & Co. Inc. in Jersey City, New Jersey. "They have really been working hard to preserve their investment in Indian Point, but at the same time, Indian Point doesn't have many other friends."
Moody's Investors Service on Monday placed its ratings for Entergy under review for an upgrade based on its plan to retire Indian Point, saying its "business risk is falling."
Meanwhile, the very drilling technique that's helped U.S. shale gas production take off and has driven down prices of the heating fuel and electricity is banned in New York. The state has prohibited hydraulic fracturing on its land since 2015.
— With assistance by Jonathan Crawford, and Naureen S Malik
Before it's here, it's on the Bloomberg Terminal.
LEARN MORE