Pound Traders Sell on May as Prime Minister Lays Out Brexit Goal
By
May signals U.K. to quit single market to curb immigration

Sterling also fell following May's conference speech last year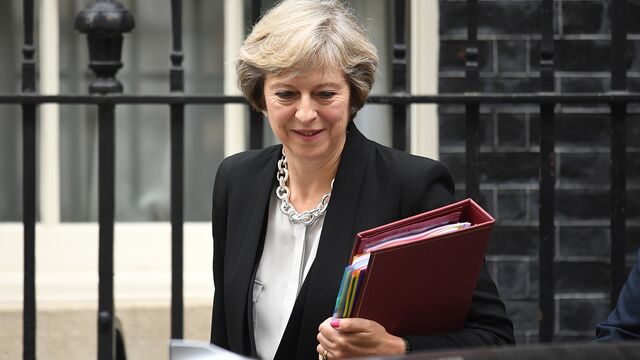 Currency investors, who cheered Prime Minister Theresa May's arrival in Downing Street, are increasingly seeing her as a trigger to sell.
The pound has tumbled following two of May's major set piece events since the start of her premiership: her speech at the Conservative Party conference and Sunday's traditional new-year television interview. In both, the Prime Minister boosted speculation the U.K. is more likely to pursue an exit from the European Union that prioritizes immigration controls over single-market membership, spooking pound investors hoping for a less radical solution.

With currency traders crying out for news of any developments on the process to leave the European Union, May's speeches and interviews have been one of their most fruitful sources of information. That means the currency, which has been among the biggest market casualties of the Brexit vote, has tended to react in a volatile fashion even if, as in Sunday's interview, May has mainly reiterated existing views. She said on Monday her comments yesterday about Brexit were no change from her previous stance.
"It looks almost certainly now like a hard Brexit, and the market doesn't like it," Erik Nielsen, global chief economist at UniCredit SpA in London, said on Bloomberg Television. "It's a political crisis in the brewing here, for sure."

In her first televised interview this year, May told Sky News on Sunday that leaving the European Union will be about "getting the right relationship, not about keeping bits of membership." The pound fell 0.9 percent to $1.2172 by 11:39 a.m. London time on Monday, after touching the weakest level since Oct. 28. That brought its decline since the June 23 vote to more than 18 percent.
The currency fell 1 percent on Oct. 3, the day after May's conference speech laid out plans to trigger the U.K.'s exit in the first quarter of 2017. That kicked off a week of selling that culminated in the Oct. 7 flash crash, which took sterling to the lowest level since 1985.
Sill, pound investors have also welcomed some interventions from May. The currency climbed 1.2 percent when, in a Nov. 21 speech to the Confederation of British Industry's annual conference, the Prime Minister acknowledged calls from business leaders to avoid a "cliff edge" in which the U.K. leaves before sealing a fresh trade deal, a signal she may be open to seeking a transitional agreement to bridge any gap.
The "government is struggling to distance itself from a hard Brexit," said Chris Turner, a strategist at ING Groep NV, adding that could lead sterling to hit 1.21 per dollar this week.
— With assistance by Simon Kennedy, and Tim Ross
Before it's here, it's on the Bloomberg Terminal.
LEARN MORE