Northern Ireland Plunges Toward New Crisis as Brexit Approaches
By
Brokenshire says 'clock ticking' on moves to avert election

Northern Ireland secretary wants energy program investigated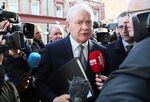 Northern Ireland Secretary James Brokenshire warned that the political crisis enveloping the region is likely to trigger fresh elections, as the province's power-sharing government heads toward collapse.
Deputy First Minister Martin McGuinness resigned on Monday after First Minister Arlene Foster refused to step aside pending an investigation into how the cost of a subsidized energy program spiraled out of control. The first minister and deputy first minister effectively jointly lead the region's assembly, and neither position can exist without the other.
"An early election looks highly likely, " Brokenshire, the U.K. government minister responsible for the province, told the House of Commons in London on Tuesday. While he said he's exploring avenues to avert an election, the "clock is ticking" on finding a solution.
The collapse of the Northern Irish assembly would add to U.K. Prime Minister Theresa May's headaches. Foster's Democratic Unionist Party supported Brexit, while Sinn Fein lobbied for a vote to remain in the EU and now wants the region, like Scotland, to be granted special status in the talks to leave. A bitter election campaign is likely to harden divisions over Brexit.
As Foster sought to calm Brexit concerns, she was drawn into a controversy that has come to be known as "cash-for-ash." She oversaw the introduction of the Renewable Heat Initiative, which was initially estimated to cost around 660 million pounds ($800 million) over its life. That estimate has surged to more than 1 billion pounds, the BBC reported. Foster has said she did nothing wrong.
Brokenshire said the failure to cap the subsidy left it open to "serious abuse" and called for an investigation into the program.
Before it's here, it's on the Bloomberg Terminal.
LEARN MORE