May to Pledge U.K. Action on Mental Health in Break From Brexit
By
Drive is part of prime minister's vision of 'shared society'

Government must play active role against injustice, May to say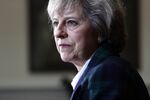 Prime Minister Theresa May will unveil a plan to "transform" attitudes about mental health as she seeks to promote domestic issues in the face of a political agenda dominated by Britain's vote to leave the European Union.
Former HBOS Plc Chairman Dennis Stevenson will lead a drive to improve support for individuals with mental-health issues in the workplace, specialist training will be provided for teachers, and online therapies will be expanded in measures to be announced by May in a speech in London on Monday.
"For too long, mental illness has been something of a hidden injustice in our country, shrouded in a completely unacceptable stigma and dangerously disregarded as a secondary issue to physical health," May will say, according to excerpts released by her office. "What I'm announcing are the first steps in our plan to transform the way we deal with mental illness in this country at every stage of a person's life, not in our hospitals, but in our classrooms, at work and in our communities."
May will use the speech to outline her vision for a "shared society" in which concepts of citizenship, responsibility and fairness are championed as part of her attempt to address the alienation and inequality which she says drove the vote for Brexit in June. There will also be an active role for government to tackle "burning injustices," she will say, in a breech with many in her Conservative Party who are committed to shrinking the state.
'Everyday Injustices'
Mental health is an example of an issue where government action can be a force for good, May will say, developing a theme in the first speech she made as prime minister in July. She has pledged to give state help to people who struggle to get by and to stand up to "everyday injustices."
"I want us to employ the power of government as a force for good to transform the way we deal with mental health problems right across society, and at every stage of life," she will tell her audience. "While the obvious injustices receive a lot of attention -- with the language of social justice and social mobility a staple of most politicians today -- the everyday injustices are too often overlooked."
The premier spent her first broadcast interview of 2017 on Sunday defending how she has handled the EU exit more than six months after the vote. She rebuffed the U.K.'s ambassador to the EU, Ivan Rogers, who quit last week accusing the government of "muddled thinking"' on the issue.
"Our thinking on this isn't muddled," she said. "There hadn't been any plans made for Brexit so it was important for us to take some time to look at the issues, look at the complexity of the issues."
Before it's here, it's on the Bloomberg Terminal.
LEARN MORE