markets
It's the Perfect Time to Start Being a Currency Contrarian, Barclays Says
Senate confirmation hearings could foster short-term dollar weakness.
By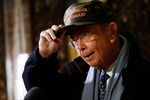 For currency traders, it's a fine time to do something different.
So says Barclays Plc's foreign exchange research team, led by Assistant Vice President Giovanni Paci, which warns that the second week of January has typically been a poor one over the past five years for those who follow conventional wisdom.
A historical tendency for currency consensus trades "to perform poorly after the first week of the year should favor a short-term weakening of the U.S. dollar vis-à-vis the majors that are less exposed — directly or through China — to U.S. protectionist measures," they wrote in a Jan. 8 note to clients.
Barclays used its global survey of investors, conducted near the end of last year, to identify these consensus calls. A z-score below zero indicates that the trade posted a below-average risk-adjusted return that week relative to its performance over the previous three months.

The team flagged the upcoming confirmation hearings for potential members of President-elect Donald Trump's administration as the likely driver of U.S. dollar softness this week, since they could "cause some to question the speed of policy implementation." The recent strength of the greenback has been tied to hopes of accelerated reflation under a pro-growth policy agenda implemented by a unified Republican Congress and Trump.
As such, Barclays' currency trade of the week calls for investors to short the U.S. dollar against a basket of the Japanese yen, euro, and British pound, targeting a return of 2 percent.
The lack of major news on the immediate horizon for the yen, euro, and pound "make them three likely candidates for investors to reduce long dollar positions," the team writes. They recommend investors don't try to short the dollar against its Australian, Canadian, and New Zealand equivalents, since those currencies "are more exposed to Trump's protectionist measures."
This is solely a tactical call, however, as the team remains "broadly bullish" on the greenback for 2017.
This tendency for conventional wisdom to be turned on its head in the second week of January "is also present in equity market consensus trades," according to the team.
It seems Barclays isn't the only one turning its back on consensus, either. In a recent note, Deutsche Bank AG strategists highlighted three positions it considers "stretched consensus trades" in need of a break. Meanwhile, Goldman Sachs Group Inc.'s out-of-consensus call on the Turkish lira is already paying off.
Investors need not look too far in the past to find a time when consensus calls struggled to make it out of the gates. Perhaps the most infamous example comes from Goldman Sachs in 2016, when the bank closed out five of its top six "top trade" ideas for the year before Valentine's Day.
Before it's here, it's on the Bloomberg Terminal.
LEARN MORE