Photographer: Jabin Botsford/The Washington Post via Getty Images
Hundreds of Colleges Saddling Students With Unaffordable Debt, Feds Say
Even some Harvard grads are leaving school with debt they can't repay.
By
About one in four career-training programs at U.S. colleges is at risk of losing federal funding, the lifeblood for most schools, the Department of Education said on Monday. In a news statement, the department disclosed for the first time the number of recent graduates saddled with potentially unmanageable debt.
The figures are part of the package of rules known as the gainful employment regulations, which attempt to measure whether graduates of career-training programs end up earning enough to afford their student debt. The Obama administration defined affordability as annual loan payments of no more than 20 percent of discretionary income, or 8 percent of total earnings.
The Education Department evaluated typical student debt and earnings information for some 1.2 million recent graduates across 8,637 such programs. About 95 percent of 2,042 at-risk vocational programs are at for-profit colleges, the department said. They range from law schools and master's degree programs to undergraduate certificates. Steve Gunderson, who leads Career Education Colleges & Universities, the for-profit college trade group, blasted the department as politically motivated and seeking to destroy colleges.
More than 800 career-training programs across 296 schools produced graduates who recently left school with loan payments exceeding either 30 percent of their annual discretionary income or 12 percent of earnings, government data show. The schools range from the defunct ITT Technical Institute to Harvard University. (A graduate certificate in drama from the Ivy League school leaves the typical student with debt that's 44 percent of discretionary earnings). Unless they challenge the data, schools must warn prospective students that they're at risk of losing access to federal student loans within a few years.
The regulations are meant to police a sector that is heavily reliant on taxpayers for its revenue in the form of federal student loans and grants. The Obama administration wants schools whose students graduate with unaffordable debt to either lower prices or eliminate poorly performing vocational programs. 
"Too many for-profit colleges have misled students, leaving them unable to find jobs that earn enough to pay off their crushing debt," said Senator Sherrod Brown (D-Ohio), the top Democrat on the Senate Banking Committee. "We must continue fighting to make sure students come before profits."
An additional 243,145 students graduated from 1,239 vocational programs across 653 schools with potentially dangerous levels of debt when it is compared to their annual earnings. These graduates left schools such as Walden University and Charlotte School of Law with debt levels that ranging from 8 percent to 12 percent of their total earnings, or 20 percent to 30 percent of their discretionary income. Four straight years of falling in what the Education Department refers to as a "zone" rate would make these programs ineligible for federal funding, likely drying up the pool of prospective students able to attend.
"When a student makes a personal and financial decision to attend college, the student must feel confident that it is a sound investment in his or her future, not a liability that will further defer his or her dreams," said Education Secretary John B. King Jr.
Watch Next: The United States of Indebted Students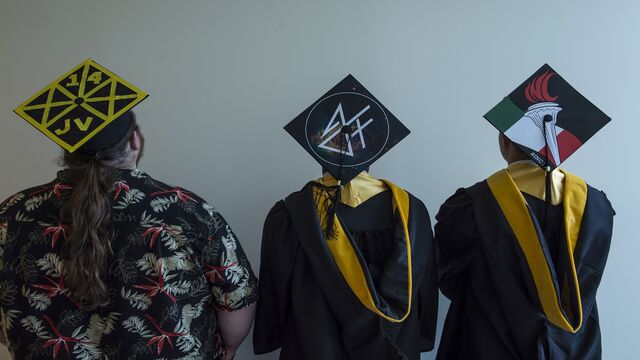 Before it's here, it's on the Bloomberg Terminal.
LEARN MORE