markets
Guangzhou Auto Seeks to Be First Chinese Carmaker to Crack U.S.
Tian Ying
Guangzhou Auto Seeks to Be First Chinese Carmaker to Crack U.S.
Tian Ying
Company is developing models tailored for American consumers

GAC's new research center will look for acquisition targets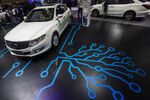 Guangzhou Automobile Group Co., which produces cars in China with Fiat Chrysler Automobiles NV, plans to start exporting its own brand of automobiles to the U.S next year and become the first Chinese carmaker to begin retail sales to American consumers.
GAC, which created its Trumpchi brand in 2010 after being a production partner for foreign carmakers for more than a decade, will start a research and development center in Silicon Valley in the first half of this year to prepare for the company's entry to the U.S., the company's President Feng Xingya said.
"Exporting to the U.S. is a key part of our efforts to become a global player and success in North America is a vital yardstick," Feng said in an interview in Detroit on Jan. 8. "We won't ship our cars here before we are fully confident that our cars would nail it."
Chinese automakers have set their sights on breaking into the U.S. retail market with their own brands for a long time, with Warren Buffett-backed BYD Co. and Volvo Cars owner Zhejiang Geely Holding Group Co. declaring their American ambitions at least nine years ago. Neither have been able to meet that target, though BYD has begun to sell electric buses to fleet owners in the U.S. and Volvo Cars is exporting made-in-China vehicles to American showrooms.

For GAC, a successful entry will mark the culmination of at least five years of preparation. The Guangzhou, China-based company is working to develop models tailored for the U.S. market to ensure their cars will appeal to local consumers and meet all regulatory requirements, Feng said.
GAC's export plan comes as competition in China intensifies, with demand expected to grow at a slower pace. While Chinese automakers like Great Wall Motor Co. and Chongqing Changan Automobile Co. have been exporting to overseas markets, GAC would be the first to take a brand to developed markets with stricter emission and fuel-economy rules.
The company almost doubled its delivery of Trumpchi vehicles last year to more than 380,000 units on the popularity of its GS4 and GS8 sport utility vehicles. The automaker expects to have about 10 percent of Trumpchi sales from overseas markets by 2020.
"Trumpchi's success in China is giving them confidence to march into the U.S. market," said Fu Yuwu, president of the Society of Automotive Engineers of China. "Chinese automakers haven't done enough to become global companies and they won't have better understanding of markets overseas unless they actually sell cars there."
GAC plans to use the research center in Silicon Valley to speed up research into connected cars, recruit talent and deepen its knowledge about local consumer preferences and government regulations, Feng said. The research center will also help the company identify acquisition targets that may help with the company's development of advanced technologies, he said.
— With assistance by Yan Zhang