Goldman Sachs Sees China Using Fixing to Strengthen Currency
By
Policy makers favor stronger yuan amid capital outflows

Offshore yuan posted record rally last week on short squeeze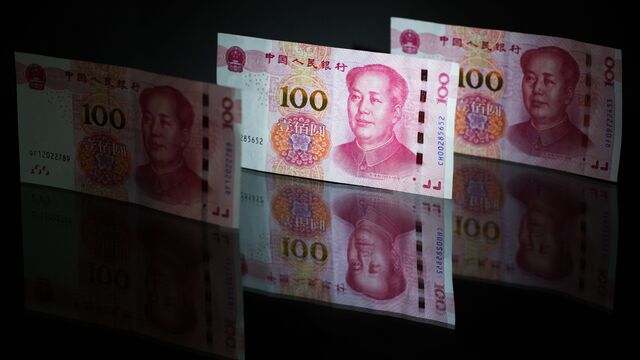 China's central bank has altered its yuan fixing mechanism since the U.S. presidential election in favor of a stronger currency as capital outflows mounted and President-elect Donald Trump threatens to adopt protectionist trade policies, according to Goldman Sachs Group Inc.
Before Nov. 8, broad dollar moves and the closing yuan price explained 90 percent of the next day's yuan fix, validating the government's publicly-announced methodology, strategists led by Robin Brooks wrote in a note Monday. The correlation has since fallen to 80 percent. The People's Bank of China sets the fix daily and lets the yuan move 2 percent of either side.
The shift allows the central bank to let the yuan rise more than it used to when the dollar weakened and let it fall less in a broad U.S. currency rally, reversing the pattern before the election, Goldman Sachs's model showed.
"China's policy makers putting their best foot forward as they await the new administration, though it is also possible they are trying to slow capital outflows via stronger RMB fixing," Brooks wrote, referring to the yuan by its official name, the renminbi. "In either case, some RMB weakness is likely being 'stored up," which will eventually materialize given the country's weakening balance of payments, he said.
The offshore yuan posted a record gain last week as soaring funding costs squeezed short sellers. The rally came as a surprise to some investors as the central bank struggled to contain capital outflows. Goldman Sachs has recommended selling the yuan against the dollar via non-deliverable forwards as one of its top trades for 2017.
If verified, the shift in fixing would mark a reversal of policy makers' tactics. The PBOC earned plaudits last year for adhering more closely to a new fixing method that takes into account global currency moves and the previous day's yuan price. But the transparency and predictability have also limited the scope for the central bank to shore up the yuan and deter speculators. China's foreign-exchange reserves fell for a sixth straight month in December, dropping $41.1 billion to a five-year low of $3.01 trillion, the PBOC said over the weekend.
China has adopted measures to downplay the dollar's role in defining the yuan's value: This year, it expanded the number of currencies in a basket used to determine the yuan's daily fixing. That reduced the dollar's weighting to 22.4 percent — little more than twice the share for South Korea's won.
The onshore yuan advanced 0.15% on Tuesday, while the offshore rate traded in Hong Kong fell 0.2% to 6.8919 a dollar as of 5:33 p.m. local time