Goldman's Contrarian Call Is Already Being Borne Out by the Lira's Plunge
The lira's depreciation has caught investors and analysts off guard
By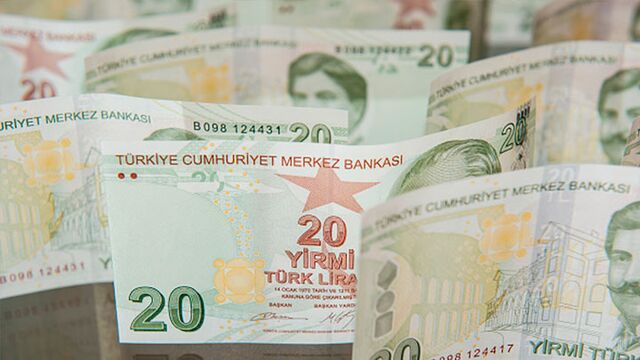 One of Goldman Sachs Group Inc.'s out-of-consensus predictions for 2017 is already bearing fruit.
While big investors are positioned for Turkey to perform well, Goldman strategists led by Caesar Maasry recommended greater caution in a report published this morning -- shortly before the lira plunged to fresh lows against both the dollar and the euro.

"We are surprised to see the overweights in Turkey, as this market tends to stand out as the most vulnerable on a macro basis," the Goldman analysts said.
That positioning means some emerging-market investors will be smarting today as the lira fell, hurting the exchange value of the Turkish assets that are among their favorite bets going into 2017. The currency has weakened more than any of its major peers this year, and by some stretch: its 5.6 percent drop since Jan. 1 is more than double that registered by the next-worst contender, the Mexican peso.
Goldman's analysis of actively-managed mutual funds shows institutional investors are most keen on Brazil, India and Indonesia at the start of 2017, with Turkey coming in close behind as a "modest" overweight. China is the biggest underweight position in both equity and fixed-income portfolios, the bank said, while positioning on Poland is firmly neutral.

Maasry et al. said they differ from that consensus by being more pessimistic on Turkey, and more optimistic on Poland.

Fund managers are not alone in being caught out. Economists appear to have been blindsided by the speed of the lira's depreciation, with the currency already weaker than all but one of the 44 analysts' estimates Bloomberg has compiled on where the lira will be by the end of March. From these levels, it would take a 6 percent recovery against the dollar to meet the median prediction.
The Goldman analysts point out that backing the right horse has become even more important as dispersion -- or high variance between the performance of different asset classes -- returns to the wider market. While Brazilian and Russian equities posted gains of about 30 percent in 2016, they note, China and Malaysian stocks lost 5 percent in the same time frame.
Before it's here, it's on the Bloomberg Terminal.
LEARN MORE