Free Warsaw Bus Rides Not Enough to Fix Smog Rivaling China's
By
Varsovians told to stay indoors as smog among world's worst

Poland's coal dependence, furnace heaters make air dirty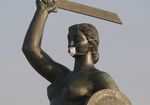 The Polish capital offered free public transport on Monday to encourage residents to leave their cars at home and stop contributing to one of the world's worst smogs.
Warsaw readings for a pollutant known as small particulate matter exceeded Polish environmental norms fivefold on Sunday, forcing local government to inform the city's nearly 2 million residents to stay indoors if possible. According to monitoring site AirVisual, Warsaw is the most polluted major city in the world on Monday.
Poland's systemic smog problem intensifies during cold spells, when in addition to its coal-based power industry, millions of households are heated by furnaces that are all too often fed by burning the cheapest available materials, including garbage. Prime Minister Beata Szydlo, herself a coal miner's daughter, supports the use of the dirty fossil fuel because it ensures energy security and provides jobs. The government is working on ways to reduce the smog, Szydlo said on her Twitter account on Monday, without giving details.
"The free-transport initiative has a great educational value, but I doubt it will have any lasting impact," Piotr Siergiej, a spokesman for Polish Smog Alarm, a not-for-profit organization, said by phone. "Household furnaces are responsible for 53 percent of the emissions in Poland and I really don't understand why we still don't have any norms for them. It's as if we weren't really fighting the air pollution."
Warsaw, Calcutta, Beijing
AirVisual lists Warsaw's air quality index at 231, meaning worse smog than in Calcutta, India, (224), Dhaka, Bangladesh, (220) and Beijing (197). Poland is the European Union's biggest per-capita polluter, with more than 80 percent of its electricity generation coming from coal. The country imports most of its gas from Russia.
Private household heating, which often uses low-quality fuel, as well as car exhausts are the main reasons behind the smog, according to Krystyna Baranska of the Environmental Protection Inspectorate in Warsaw. The pollution is responsible for about 45,000 premature deaths per year in Poland, the European Environment Agency said last year.
The EU took Poland to court in 2015 over the household-driven air pollution, which pushed the government to prepare a law that will force people to get more efficient furnaces. According to the World Health Organization, Poland is home to 33 of 50 EU's most polluted cities.