Entergy Agrees to Close Nuclear Plant Near New York City
by and
New York will drop legal challenges, support license renewal

Shutdown would complete Entergy's exit from merchant power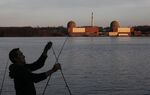 Entergy Corp. has reached an agreement with New York officials to close the Indian Point nuclear power plant in 2021, bringing an end to a long-running dispute over the future of the reactors located just 25 miles north of New York City.
New York Governor Andrew Cuomo had pushed for years to close Indian Point because of what he says are radioactive risks it poses to the city. The company agreed to the shutdown as the plant struggled to compete with lower-cost energy sources, including natural gas and renewable energy. The closure completes Entergy's exit from its merchant power business.
Under the agreement, the state will drop legal challenges and support renewal of the operating licenses for Indian Point, the New Orleans-based company said in a statement Monday. The licenses have expired, but the 2,000-megawatt plant is authorized to continue to operate until it closes.
"For 15 years, I have been deeply concerned by the continuing safety violations at Indian Point, especially given its location in the largest and most densely populated metropolitan region in the country," Cuomo said in a statement. "I am proud to have secured this agreement with Entergy to responsibly close the facility 14 years ahead of schedule to protect the safety of all New Yorkers."
Higher Costs
Five nuclear plants have shut in the U.S. in the past five years with about 20 gigawatts of capacity expected to retire by 2040, according to the U.S. Energy Department. Cuomo has supported measures that would keep reactors in upstate New York operating despite lower power prices. Workers will get access to retraining, according to the statement.

Entergy decided to close Indian Point ahead of schedule in part due to sustained low wholesale energy prices that cut into revenue as well as increased operating costs, Bill Mohl, president of Entergy's wholesale commodities business, said in the statement. The company forecast costs for license renewal beyond the more than $200 million it had already invested, Mohl said.

Entergy will take a non-cash impairment charge of $1.5 billion after tax in the fourth quarter of 2016. In addition, the company said it will record additional charges of about $180 million related to severance and other employee expenses through 2021.
Shares fell 1.5 percent to $72.14 at 11:45 a.m. in New York. The stock gained 7.5 percent last year.
"We view the agreement as a long-term positive for Entergy, removing a significant overhang and allowing the company to complete its exit from the merchant generation business thereby de-risking its business profile," Michael Worms, an analyst for BMO Capital Markets, wrote in a research note Monday.
Meanwhile, environmental groups praised the landmark deal led by Riverkeeper, which has filed legal challenges to Indian Point and was part of the negotiations with the state and Entergy.
"This agreement provides what we've been fighting for for decades: a definite early closing date for Indian Point -- our biggest existential threat in the region," Paul Gallay, president of Riverkeeper, said in an e-mailed statement.
Before it's here, it's on the Bloomberg Terminal.
LEARN MORE