Corbyn Seeks Migrant Control as U.K. Labour Draws Up Brexit Plan
By
Labour 'not wedded' to freedom of movement, party leader says

Says May has 'recklessly' exposed Britain without an exit plan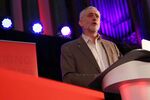 Jeremy Corbyn, the leader of the U.K.'s opposition Labour Party, will pledge support for controls on immigration from the European Union as he seeks to draw both the pro-Brexit and pro-EU voters he needs to win power.
While saying that Britain must retain access to the EU single market in goods and services after leaving the bloc, Corbyn will demand protections for workers and the funding for the National Health Service that was promised by Brexit campaigners before the June 23 referendum.
"Labour is not wedded to freedom of movement for EU citizens as a point of principle, but nor can we afford to lose full access to the European markets on which so many British businesses and jobs depend," Corbyn will say in a speech in eastern England on Tuesday, according to excerpts released by his office. "Changes to the way migration rules operate from the EU will be part of the negotiations. Labour supports fair rules and reasonably managed migration as part of the post-Brexit relationship with the EU."
Corbyn, whose party is trailing Prime Minister Theresa May's Conservatives by more than 10 percentage points in opinion polls, is seeking to appeal to both sides in the Brexit debate in the face of divisions among his party's traditional supporters on the issue. Many Labour lawmakers outside London represent districts that voted to leave the bloc, but the party also dominates politics in the strongly pro-"Remain" capital. Both camps fear losing their seats if the party gets its Brexit policy wrong.
NHS Pledges
Corbyn will round on May, accusing her of not having a plan and taking Britain toward a divorce from the EU that will favor the rich and leave the poor behind. The prime minister gave no further details of her proposals in comments to reporters Monday.
"The British people voted to refinance the NHS," he will say, drawing a direct link between the vote to leave and promises of an extra 350 million pounds ($425 million) a week for the NHS made by Foreign Secretary Boris Johnson and other Brexit campaigners.
"We have had no answers from government about their plans. Not since the Second World War has Britain's ruling elite so recklessly put the country in such an exposed position without a plan," Corbyn will say. "There can be no question of giving Theresa May's Tories a free pass in the Brexit negotiations. Unlike the Tories, Labour will insist on a Brexit that works not just for City interests, but in the interests of us all."
Leaders from the other 27 EU countries have repeatedly said that there can be no access to the EU single market without free movement of labor. Corbyn will say he would not set targets on immigration but would legislate to stop U.K. workers being undercut by cheaper employees from other countries if he wins power.