Cooperman Case Poses Question of When Inside Tips Become Illicit
By
SEC says billionaire raising 'astounding theory' in defense

Cooperman argues government's vagueness 'fundamental defect'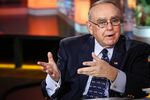 Regulators pursuing an insider-trading case against billionaire Leon Cooperman say he is using an "astounding theory" to justify trading on non-public information he obtained from a company insider.
The U.S. Securities and Exchange Commission said Cooperman is seeking to use a "loophole" in insider-trading law that would "reward deception." "Insider trading law was not developed to permit individuals with access to corporate insiders to profit through deception," the SEC argued, in court filing on Jan. 6.
But Cooperman, 73, said last month the lawsuit should be dismissed. He said he was under no obligation not to trade on the information. That's because the purported promise he made not to trade came after he was told the tip.
The two sides are engaged in a legal battle over when confidential leaks lead to insider trading.
The founder and chief executive of Omega Advisors Inc., Cooperman was accused of using his status as one of Atlas Pipeline Partners GP LLC's largest shareholders to obtain confidential information from a company executive. He earned about $4 million by buying securities in Atlas before the sale of a company asset in 2010, which caused shares to jump 31 percent.
Large Positions
The SEC said in a filing in federal court in Philadelphia that Cooperman had a strategy of accumulating large positions in publicly traded companies and developing close relationships with their senior executives. Cooperman talked to an unnamed Atlas executive at least three times in July 2010 and obtained material, nonpublic information, according to court records.
The Atlas executive "believed Cooperman had an obligation not to use this information to trade," according to the SEC document. During one of the conversations, "Cooperman explicitly agreed he could not and would not use the information" to trade in Atlas securities, according to the SEC. 
The SEC said the defense is arguing that Cooperman can obtain confidential from an executive, "deceive the executive by agreeing not to trade on the information, and still trade so long as he did not lie until the end of their conversation," according to the SEC. "This is an astounding theory that runs contrary to a fundamental tenet of insider law: the prohibition of deception in securities trading."
Cooperman's lawyers argue that a "fundamental defect" in the SEC's case is that the agency won't say when their client allegedly promised not to trade on the Atlas information.
In addition, after Cooperman's lawyers met with the SEC, the agency revised its allegations, Cooperman said in court papers. The agency originally alleged that the Atlas executive provided Cooperman with confidential information on July 19, 2010 and "only thereafter sought and received assurances from Mr. Cooperman that he would not use the information."
"Any agreement made after information has already been shared cannot give rise to an insider trading claim," Cooperman's attorneys wrote. The SEC then changed direction and filed a complaint dropping specifics and replacing them with "general and vague allegations," the attorneys wrote.
"We believe the SEC did so deliberately in an effort to obscure the timing of the alleged agreement and thereby to avoid exposing a fundamental and fatal flaw in its case," Cooperman's attorneys wrote.
Daniel Kramer, a lawyer for Cooperman, didn't immediately return voice-mail and e-mail messages left at his office seeking comment.
The case is SEC v. Cooperman, 16-cv-5043, U.S. District Court, Eastern District of Pennsylvania (Philadelphia).
— With assistance by Matt Robinson
Before it's here, it's on the Bloomberg Terminal.
LEARN MORE