Brexit Bulletin: May's Hints Hit the Pound
Life after Brexit could mean life outside the single market, the prime minister hints.
By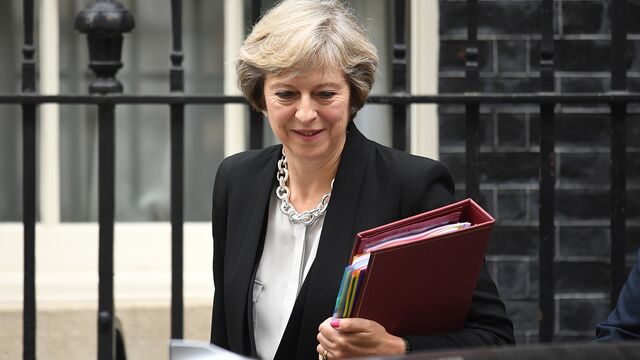 Sign up to receive the Brexit Bulletin in your inbox, and follow @Brexit on Twitter.
Theresa May has had a torrid start to 2017. On Sunday she made a bid to take back control, signaling that regaining control of immigration and lawmaking are her key priorities in upcoming Brexit talks, even if that costs Britain membership of the single market.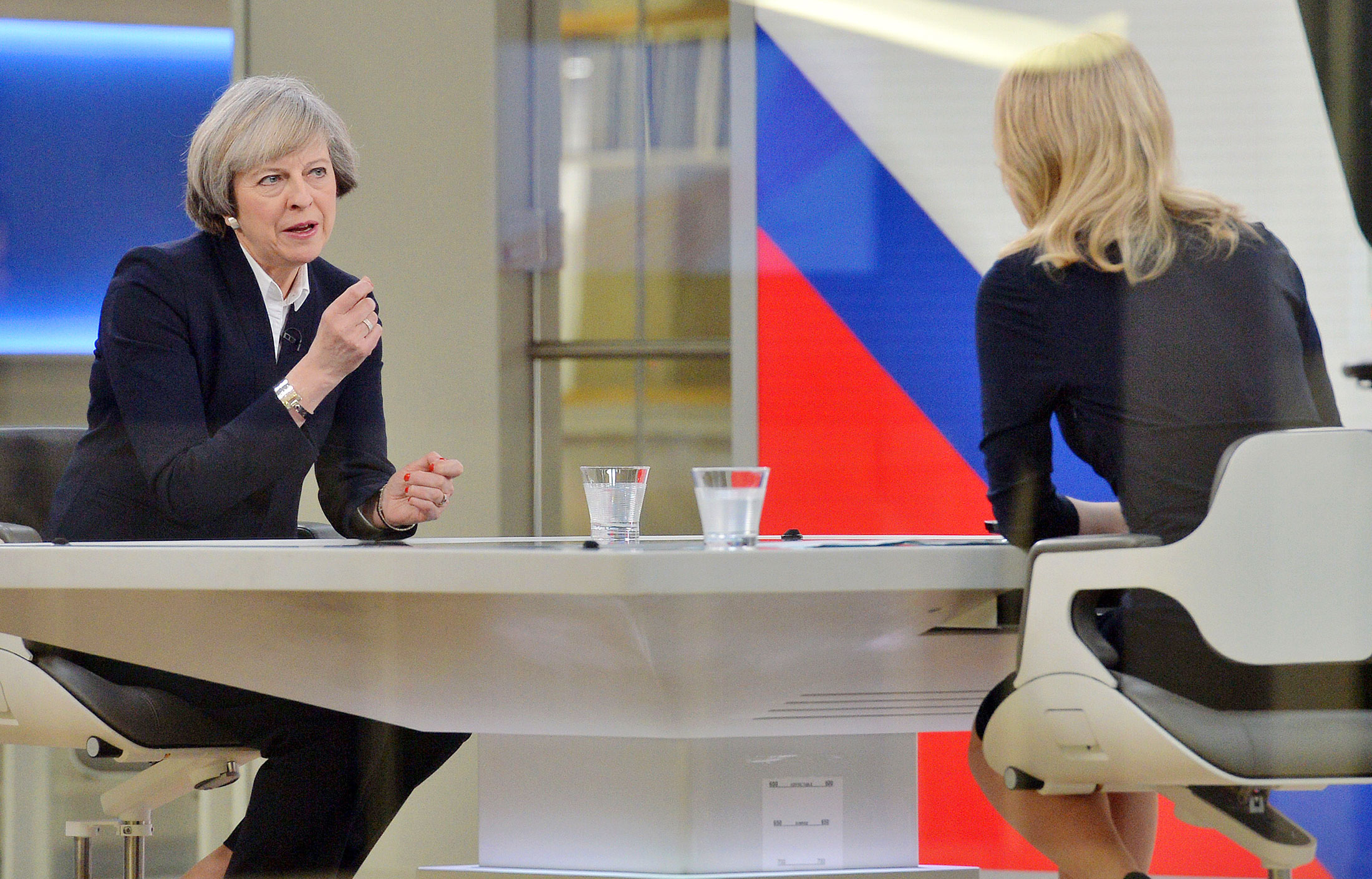 The prime minister told Sky News that leaving the European Union will be about "getting the right relationship, not about keeping bits of membership."
"We are leaving. We are coming out. We are not going to be a member of the EU any longer, so the question is what is the right relationship for the U.K. to have with the European Union when we are outside," she said.
"We will be able to have control of our borders, control of our laws, but we still want the best possible deal for U.K. companies to be able to trade in and within the EU and European companies to operate and trade in the U.K."
A report released on Monday by the think tank Civitas outlined how U.K. exporters could be compensated if May can't strike a free trade deal. It suggested that by levying £13 billion ($15.9 billion) of tariffs on European products, the government could craft an £8.8 billion package of support based on research credits, cash for disadvantaged regions and cheaper energy bills.
May also used the interview to deny the government's plan to exit the EU is "muddled," saying she'll unveil details of her strategy in the coming weeks. On Monday, she said she didn't like the terms hard or soft Brexit  and that her plan is for an "ambitious" deal.
In a bid to broaden her country's political agenda beyond Brexit by promoting domestic issues, May on Monday unveiled a plan to "transform" attitudes about mental health. Meanwhile, Foreign Secretary Boris Johnson is in New York to meet advisers to President-elect Donald Trump, who tweeted over the weekend that he will meet May in the Spring.
On the Markets
The pound tumbled against its major rivals, reaching a 10-week low versus the dollar, following May's weekend comments.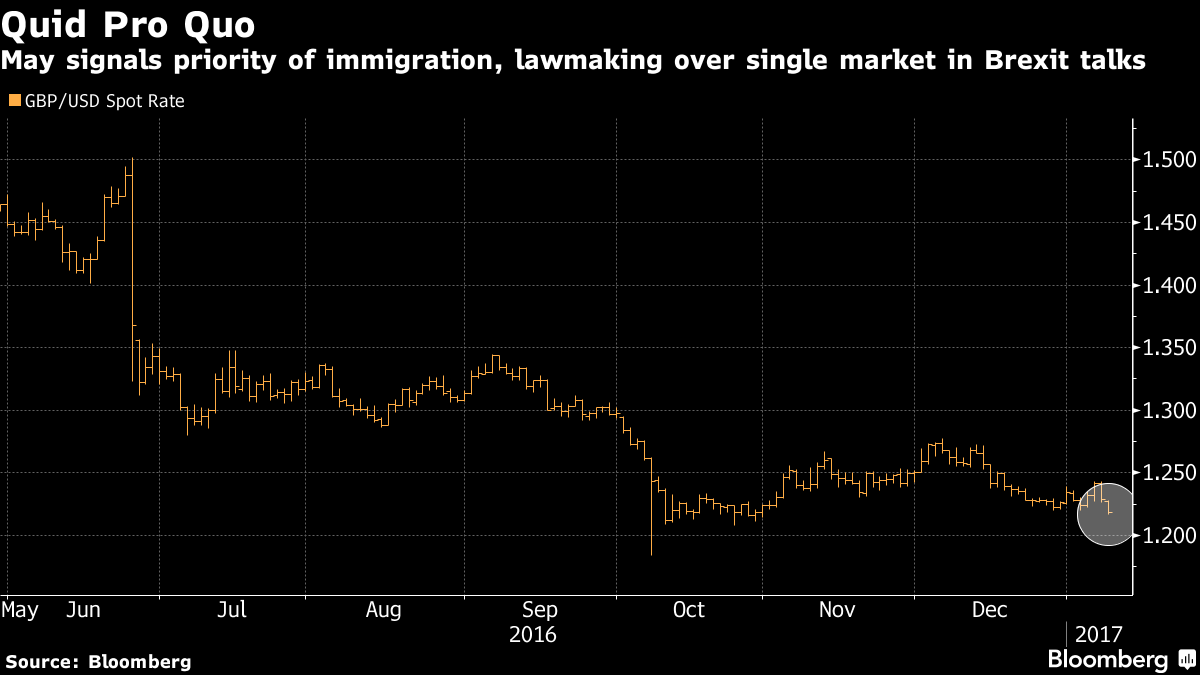 Weekend Wrap
Trade Secretary Liam Fox has identified 50 nations as potential markets as he urges businesses to take advantage of export opportunities, the Press Associated reported. Donor Andrew Cook warned the Conservative Party it will get no more money from him if May withdraws from the single market, according to The Times. Canadian trade expert Jason Langrish told the Observer that Britain risks a "catastrophic Brexit" because a trade deal could take a decade to strike.
Ivan Rogers, who quit last week as ambassador to the EU, told former Prime Minister David Cameron before Christmas that May was botching Brexit, the Sunday Times said. The Mail on Sunday reported that Trump is considering naming Brexit-supporter Professor Ted Malloch as his envoy to Brussels. The Telegraph says takeovers and investment deals in the British tech sector rose by 40% to a new high last year despite the Brexit vote. The Daily Express reported the U.K. wants a share of the 42,000 bottles of wine owned by the EU.
Test for Shoppers
British consumers, who helped the economy emerge largely unscathed from the Brexit vote, now face their next big health check.
Last week Next offered a grim outlook for 2017 following a downbeat holiday selling season. Now Marks & Spencer, department-store chain Debenhams, grocer J Sainsbury and other retailers are poised to provide business updates. 
Their updates should reveal clues about any changes to household spending patterns, and whether the economy will continue weathering the U.K.'s decision to leave the EU, according to Bloomberg's Jill Ward and Sam Chambers. A sharp upswing in inflation in expected this year. That, and uncertainty over the economic outlook could test how willing households are to keep on splurging.
Brexit Bullets
Almost half of companies see more risk than opportunity in 2017, says manufacturers organization 
FTI consulting poll of 161 executives finds 51 percent predicting Brexit will benefit their businesses  
German Vice Chancellor Sigmar Gabriel tells Der Speigel that an EU breakup is no longer inconceivable
Merkel to deliver first key speech of 2017 on Monday about future of Europe
75 percent of continental academics in U.K. "more likely to consider leaving" after Brexit, says poll
And Finally…
Chastened by how the economy proved more resilient in the wake of the referendum than they anticipated, economists at HSBC and Morgan Stanley are hedging their bets slightly this year.

While both are still predicting slowdowns, each last week outlined scenarios in which the economy again tops expectations.
For that to happen in Morgan Stanley's eyes there would need to be a "Goldilocks Brexit" in which the U.K. and EU enjoy what the bank's analysts called a "gentle" split, resulting in better inflation and unemployment pictures than they now project.
Over at HSBC, economist Liz Martins still thinks Brexit will be "disruptive, peppered with uncertainty and detrimental to growth." But she added that negotiations could go smoothly, allowing the breakup to be extended over time with London-based banks perhaps allowed continued access to the bloc for a while. That might encourage businesses to keep investing and sterling to gain by enough to cool inflation and prompt consumers to spend, she said. 
For more on Brexit follow Bloomberg on Twitter, Facebook and Instagram, and see our full coverage at Bloomberg.com
Before it's here, it's on the Bloomberg Terminal.
LEARN MORE