Kia to Bring Stinger Sports Sedan to U.S.
by
Sedan designed in Frankfurt targets leading German brand

Stinger's 390-horsepower V6 races 0-62 mph in 5.1 seconds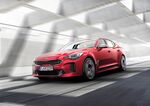 Kia Motors Corp. said its Stinger sports sedan will go on sale in the U.S. late in 2017, a decision that may help raise its profile among buyers who focus on a vehicle's speed, performance and handling.
Since 2012, Kia's K900 has served as its luxury flagship, leaving a gap with performance enthusiasts. U.S. supplies of that vehicle were short, with sales of just 834 cars in 2016, a 68 percent slide from the prior year. Kia also has a relatively small stable of SUVs and no pickups -- the types of vehicles that most competitors are using to lure buyers.
The automaker will equip the five-passenger, rear-wheel-drive Stinger with a choice of two turbocharged engines. At the top will be a 3.3-liter V6 that generates 390 horsepower and propels the car from zero to 62 miles (100 kilometers) per hour in 5.1 seconds. A 2.0-liter four-cylinder will also be available. Kia said it will announce the Stinger's price later this year.

Kia is also banking on the Bavarian roots of its chief designer, Peter Schreyer, whose 1998 design for the Audi TT roadster influenced a generation of German stylists. In its press materials, Kia compared the car to the Audi A4, the BMW 4 Grand Coupe, and the Lexus IS.
"Kia so far has been a volume brand," Schreyer said at an event in conjunction with the Detroit auto show. "If we are able to make a car on a high level like those, it would be for us a big achievement."
Kia sold 647,598 vehicles in the U.S. in 2016, up 3.5 percent from the previous year. Its best-selling model, the Soul crossover, saw sales decline by 0.9 percent, while the Sportage SUV jumped 51 percent.
Before it's here, it's on the Bloomberg Terminal.
LEARN MORE