Fed's Powell Says Risks Are Mixed and Real Estate Is a Concern
by
U.S. central bank is near meeting its mandate for jobs, prices

A 'high degree of vigilance' is needed in light of low rates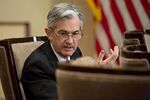 Federal Reserve Governor Jerome Powell said the U.S. central bank needs to step up monitoring of financial excesses following an extended period of record-low interest rates, citing commercial real estate as one area of concern.
"With inflation under control, overheating has shown up in the form of financial excess," Powell told the American Finance Association Saturday in Chicago, according to a text of his prepared remarks. "The current extended period of very low nominal rates calls for a high degree of vigilance against the buildup of risks to the stability of the financial system."
U.S. central bankers are weighing how quickly to raise interest rates amid investor optimism that President-elect Donald Trump can shake the economy out of its low-growth rut by delivering tax cuts, investment, and regulatory reforms that also lift price pressures.
Powell said the Fed was "close to meeting" its dual mandate of full employment and stable prices, which it defines as 2 percent inflation.

As concerns financial risks, "the picture is mixed, but the bottom line is that there has not been an excessive buildup of leverage, maturity transformation, or broadly unsustainable asset prices," Powell said.
The Fed slashed rates to almost zero during the financial crisis in 2008 and has since raised them only twice, including a quarter-point increase in December.
While the prolonged period of low rates have weighed on profitability of banks, it hasn't resulted in asset prices that are out of line with historical norms, Powell said, though he added that "equity prices have recently increased considerably, pushing the forward price-earnings ratio further above its historical median."
"In contrast, valuations in commercial real estate are high in some markets," he said. "And in the non-financial corporate sector, gross leverage is high by historical standards." Still, "Overall, I do not see leveraged finance markets as posing undue financial stability risks."
Minutes of December's Fed policy meeting showed officials were shifting their focus toward the risk that expansionary fiscal policy from the Trump administration may warrant a faster pace of rate hikes than expected. Still, most of them continued to judge that a gradual pace of rate increases was likely to be appropriate.
"Ultimately, the only way to get sustainably higher interest rates is to improve the broader environment for growth, by adopting policies designed to increase productivity and potential output over the long term -- policies that are mainly outside the scope of our work at the Federal Reserve," Powell said.
Before it's here, it's on the Bloomberg Terminal.
LEARN MORE