Without Kelly, Fox News Counts on White Men in Prime Time
by and
Murdoch pick Carlson has fared well in cable ratings race

Network contended last year with Ailes harassment scandal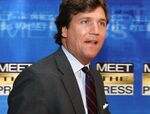 With an all-white male prime-time lineup, Rupert Murdoch's Fox News is betting that viewers care more about the message than the messenger.
The network announced this week that it would replace Megyn Kelly, the only female star on the nighttime roster, with Tucker Carlson, whose show earlier in the evening has already fared well for Fox News. Murdoch tried to keep Kelly, but after she defected to NBC News he went against the grain with his choice for a successor.
The choice of Carlson runs counter to the notion that audiences want to see people on TV who reflect the nation's diversity. CNN has two openly gay men, one of them black, on weekday evenings, and MSNBC's biggest prime-time star is Rachel Maddow, a white woman who's also gay. Fox is also still repairing its image with women after an internal newsroom scandal last year that saw co-founder Roger Ailes depart under a cloud of sexual harassment allegations.
Murdoch, who controls Fox News parent 21st Century Fox Inc., has groomed many female stars for his networks, including Kelly. One of them, Martha MacCallum, will host a temporary show at 7 p.m. New York time, giving her a trial run in the evening hours. (Prime time traditionally starts at 8 p.m.) But the choice of Carlson shows Murdoch thinks his audience values the network's ideologically conservative, confrontational reputation above all else.
"The network is more than the anchors -- it's the whole philosophy and political bent of the network," said Andrew Donchin, chief investment officer at Dentsu Aegis Network, which buys ads on channels including Fox News for companies such as General Motors and Pfizer. "I don't think the gender matters. Fox News is somewhat bulletproof. Their audience is extremely, extremely dedicated to the network."
Loyal Audience
Fox has one of the most loyal audiences in cable TV and has pummeled CNN and MSNBC in the ratings since the presidential election in November. The Fox audience does skew slightly older than that of its rivals, though its shows win the ratings in every age bracket that matters to advertisers.
That loyalty is facing one of its toughest tests now as Fox makes a rare alteration to the lineup. Kelly was an undisputed star on the network, with ratings that rivaled and sometimes even beat Fox's tentpole show, Bill O'Reilly's "The O'Reilly Factor." Her show drew a similar proportion of female viewers as those of O'Reilly, Sean Hannity and Carlson, according to Nielsen data.
Carlson has fared well since he replaced Greta Van Susteren in November with a show at 7 p.m. His program widened Fox's lead over rivals, beating the audiences for CNN's Erin Burnett and MSNBC's Chris Matthews combined, with an average of 2.8 million viewers a night since its debut. The conservative host, known for previous stints on CNN and MSNBC and for his turn as a contestant on "Dancing with the Stars," has already made waves by showing a penchant for rankling liberals on his show. He has positioned the program more as a thorn in the side of the mainstream media and elites than of President-elect Donald Trump, who sometimes found himself in Kelly's crosshairs.
"In less than two months Tucker has taken cable news by storm with his spirited interviews and consistently strong performance," Murdoch said in a statement this week. "Viewers have overwhelmingly responded to the show and we look forward to him being a part of Fox News' powerful prime-time line-up."
Second Place
In December, when Kelly was largely on leave to promote her book, Carlson's show ranked second only to O'Reilly's among cable-news programs. The top 11 shows that month were from Fox News, with MSNBC's Maddow ranked 12th and CNN's Anderson Cooper in 18th place. On Jan. 4, after Kelly returned to her show, Carlson's audience in the key demographic for advertisers was 20,000 viewers short of "The Kelly File."
Still, Fox is taking a risk by making its prime-time roster so homogeneous.
"If you're trying to reestablish the fact that you're fair to women -- and Fox needs women on the screen -- plus you're trying to build an organization that's seen as fair and balanced, you don't want to lose her," said Blair Westlake, former corporate vice president of media and entertainment at Microsoft Corp. and prior chairman at Universal Television and Networks Group.
Kelly was not only a female star but the most high-profile Fox anchor to regularly put conservative standard-bearers under tough questioning, Westlake said.
Fox shares have gained since the announcement Tuesday of Kelly's departure. They were up 1.6 percent to $29.47 at 3:41 p.m. Friday in New York.
Fox may save millions in salary by replacing Kelly with Carlson. Fox had offered Kelly more than $20 million a year, according to Vanity Fair. She had been earning about $15 million. Carlson's salary hasn't been disclosed, but Kelly's salary was above the norm. Some of those savings could help Fox renew its deal with O'Reilly, whose contract expires later this year.
But if Carlson ultimately can't live up to Kelly's ratings, her departure from Fox is likely to cost the network advertising revenue, said Kay Koplovitz, a director at Time Inc., Ion Media Networks Inc., CA Inc., Ruckus Media Group and other companies.  
"Star anchors like Kelly command premium fees from advertisers and they also have a halo effect on the shows surrounding them," she said.
In the long term, Fox needs to attract a younger, more diverse audience to draw more advertising revenue, said Brian Wieser, an analyst at Pivotal Research Group LLC who has a buy rating on the shares. The choice of Carlson, 47, to replace Kelly, 46, is unlikely to bring down the age of the audience or "broaden their demographic appeal any," he said.
(
Updates with analyst's comment in final paragraph.
)
Before it's here, it's on the Bloomberg Terminal.
LEARN MORE