Trump Says U.S. Can Pay for Border Wall, Bill Mexico Later
By and
President-elect's aides ask Congress to fund project initially

Trump says he'll ask Mexico to repay the costs for border wall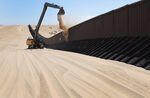 President-elect Donald Trump defended a plan to ask Congress to initially pay for building a wall at the U.S.-Mexico border, saying that he'll demand repayment from Mexico.
"Any money spent on building the Great Wall (for sake of speed), will be paid back by Mexico later!" he wrote on Twitter Friday. The message came after news reports that Trump's transition team and House Republicans are weighing plans to have told congressional Republicans that the incoming administration will push to use the appropriations process this spring to get an initial infusion of funds for border security. 
A Trump spokesman, Sean Spicer, later told reporters it "shouldn't be news" that Trump would plan to seek an appropriation from Congress to pay for the wall. He didn't answer a question about how much Trump plans to request, saying on a conference call that "there's an ongoing discussion with Congress about how to fund it and obviously the logistics to make it work."
"It's going to take a little time," Spicer said.
The president-elect used his tweet to scold the "dishonest media" and coverage of his plan that depicted the use of appropriations as a sign that Trump was backing down from his campaign promise to require the Mexican government to fund the project, not U.S. taxpayers.
The "tweet was engendered by people in the media," former Trump campaign manager Kellyanne Conway, who's slated to be a White House counselor to Trump, said Friday on Fox News. Suggestions that he's breaking his promise are "not true." Trump is "going to build that wall and Mexico is going to pay for it. That hasn't changed," she said.
"Congress is examining ways," Conway added, "to have the wall paid for through their auspices." Trump "will have Mexico pay it back," she said.
2006 Law
Republican lawmakers and transition team members are considering using a law signed by former President George W. Bush that authorized construction of more than 700 miles of "physical barrier" on the southern U.S. border, said House Republican Policy Committee Chairman Luke Messer, an Indiana Republican. The 2006 law was never fully implemented and doesn't expire.
Under the plan, Republicans are considering whether to include border security funding in a stopgap spending bill that must be enacted by the end of April to keep the federal government funded. The move could provoke a showdown with Democrats over funding, daring them to shutter the government over Trump's campaign pledge to build the wall.
"It's not a silver-bullet solution to border security, but it's certainly a good start," Messer said in an interview.
The discussion is preliminary, and no decisions have been made about how much funding might be sought, Messer said. He said funding might be used for various approaches to bolster the Mexico border, including added fencing and technologies.
"It could be a mix of things," he said.
Before it's here, it's on the Bloomberg Terminal.
LEARN MORE