business
Sturgeon Puts Scots Independence on Ice in Bid for Softer Brexit
By
First minister wants Scotland to stay in EU's single market

Scots opted by 55% to 45% to stay in U.K. in 2014 vote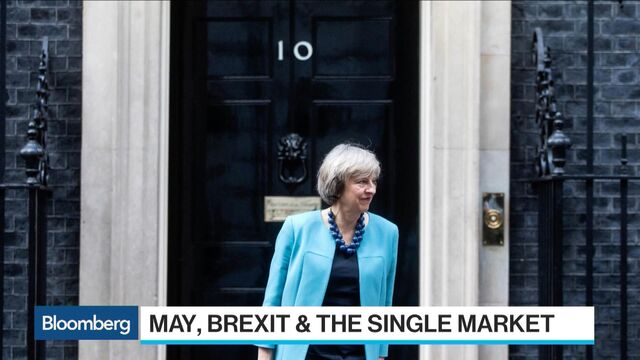 Scottish First Minister Nicola Sturgeon said she's prepared to put off seeking independence from the U.K. in exchange for a compromise deal on leaving the European Union that keeps Scotland in the single market.
"I'm in a sense willing to put aside my preferred option of independence in the EU to see if we can explore a consensus and compromise option," Sturgeon told BBC Radio on Friday. "We've put forward very detailed plans about how we avoid a hard Brexit, and the reason it's important to avoid a hard Brexit, let's not forget, is because that will have a devastating impact on our economy and on jobs."
The remarks show Sturgeon is putting any renewed independence bid on ice until she sees how divorce proceedings with the EU pan out. They reiterate the softening of her tone displayed before Christmas, when she presented a 50-page policy paper outlining how Brexit could be made to work for Scotland. In the wake of the June referendum, she had said that leaving the EU constituted a change in circumstances that merited a second independence referendum.
The demands of the semi-autonomous Scottish government emphasize the difficulties faced by Prime Minister Theresa May as she prepares to officially trigger Brexit negotiations by the end of March. She's made immigration controls a red line of the talks, which her EU counterparts say runs counter to the single market's principle of free movement of people.
Scotland voted overwhelmingly to stay in the EU and Sturgeon is trying to leverage that vote to gain extra powers for her administration, while declining to rule out a repeat of the 2014 independence referendum. In that vote, Scots chose by 55 percent to 45 percent to stay in the U.K. 
Brexit Timescale
Sturgeon last month spelled out her vision for Scotland staying in the single market even if the rest of the U.K. leaves when it completes talks with the other 27 EU members. She called for power over such things as employment law, trade and immigration and the ability to conclude international agreements.
The first minister on Friday said she's willing to put aside a new bid for independence "in the timescale of Brexit." The EU's Lisbon Treaty allows two years to complete exit talks. 
"I'm deliberately saying "put my preferred option to one side' and asking people if we can find a consensus and compromise option," Sturgeon said. "I'm never going to stop arguing for independence. I think Scotland will become independent and I think that's the direction of travel."
Before it's here, it's on the Bloomberg Terminal.
LEARN MORE