Durst Judge Won't Budge on Some Witnesses Staying Incognito
by
Prosecutors say jailed 73-year-old heir is still dangerous

Los Angeles District Attorney wants to preserve testimony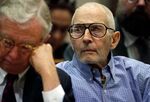 New York real estate heir Robert Durst, charged with murdering a friend because she knew too much about his wife's disappearance, lost a court fight with prosecutors over keeping some witnesses under wraps out of fear that the jailed 73-year-old poses a threat to them.
A California state judge ruled Friday that the Los Angeles District Attorney can proceed with plans to bring witnesses to court as early as Feb. 14 to preserve their testimony ahead of trial. The judge rejected arguments by Durst's lawyers that they won't have enough time to prepare to cross-examine the witnesses, at least two of whom the prosecution has so far refused to identify.
Durst is accused of slaying his friend Susan Berman execution-style in December 2000 after authorities re-opened an investigation into the disappearance of his first wife 18 years earlier. The prosecution wants to videotape interviews of two witnesses next month, and at least two more after that, because some of them are elderly and might not be able to testify in person by the time the case goes to trial.
California Superior Court Judge Mark Windham had already agreed to the prosecution's plan in a closed-door conference with lawyers before Durst's lawyer presented arguments on Friday.
Durst, now serving a federal prison sentence for being a felon in possession of a firearm, in November pleaded not guilty to first-degree murder in the Berman case.
The case is People v. Durst, SA089983, California Superior Court (Los Angeles County).
Before it's here, it's on the Bloomberg Terminal.
LEARN MORE