Nigeria to Start Building Railway to Decades-Delayed Steel Plant
By
Government to concession railroad after completion in 2 years

Rail line will link steel plant to iron-ore mines, port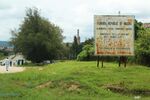 Nigeria plans to start construction this month of a railway linking its decades-delayed Ajaokuta steel plant to iron-ore mines and a port, as the government accelerates efforts to reduce the economy's reliance on oil.
Julius Berger Nigeria Plc, which won a contract in 2009 to build a 275-kilometer (171-mile) rail line, "should start work very soon, and completion is expected in about two years," Ministry of Transport Permanent Secretary Sabiu Zakari said in an interview from the capital, Abuja, on Thursday. "We are determined to do this project that has dragged on for thirty years."
Construction of the steel plant on the banks of the Niger river started in 1979 before stalling, partly because of the absence of a railway to carry raw materials and finished product. Now authorities are seeking to revive the project, as part of President Muhammadu Buhari's efforts to invest in mining, agriculture and infrastructure. Government revenue from oil, which accounts for 90 percent of the nation's export earnings, has shrunk after crude prices fell from a peak reached in 2014 and as attacks on pipelines in the Niger Delta curb production.
The new railroad will link the steel plant to an iron-ore mine in the central Kogi state, as well as the port city of Warri to the south and Kaduna state, north of the capital. Once complete, the government plans to hire a private operator for the rail line, Zakari said. Several companies have expressed interest in the concession, he said, declining to name them.
Nigeria may this year spend about 213 billion naira ($688 million) developing railroads, including the Ajaokuta-link project, according to budget proposals.