Flu's Back in the U.S. After a Slow Start, Hitting NYC Hard
By
New Jersey, Georgia, Oklahoma, Oregon also affected, CDC says

Death rates from influezna and pneumonia still low last month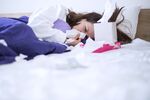 After a slow start, the flu's back with a vengeance.
Following a late and somewhat milder than normal season last year, influenza picked up in the middle of December, according to the U.S. Centers for Disease Control and Prevention's weekly report.
The virus isn't working its way across the nation in its usual southeast to northwest pattern, however. New York City, Puerto Rico and 10 states scattered across the country are showing high influenza activity levels, the agency said. Among the states showing the most flu-like activity during the last week of 2016 were New Jersey, Oregon and several southern states, including Georgia and Oklahoma.
Deaths attributed to influenza and pneumonia, which can trail infection reports, remain below the seasonal baseline and epidemic levels, though they are climbing, the CDC report shows.
The good news? Most virus samples tested by the CDC appear to have been included in the influenza vaccines made by companies such as Sanofi and GlaxoSmithKline Plc. The nation's health insurance companies, which pick up the hospital and doctor's office bill for influenza visits, hope a flu shot is atop your New Year's resolution list -- if you didn't get it already.
Before it's here, it's on the Bloomberg Terminal.
LEARN MORE