El-Erian Says Market Should Worry About Dollar Being Too Strong
by
Economist says he looks every morning at what dollar is doing

Labor market is 'structurally challenged,' even amid job gains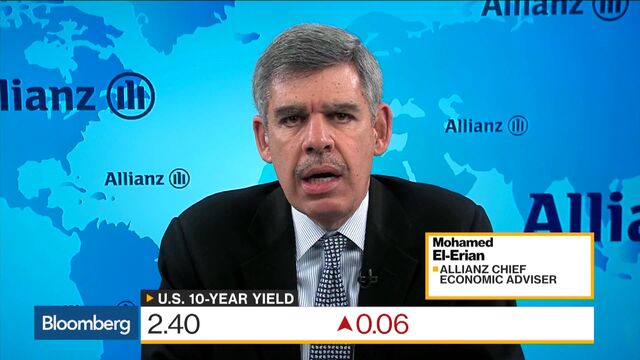 Mohamed El-Erian, Allianz SE's chief economic adviser, said investors shouldn't overlook risks tied to the strengthening U.S. currency.
"The number I look at every morning is what the dollar is doing," El-Erian said Friday in an interview on Bloomberg Television. "And the thing that the market should worry about is the dollar strengthening too quickly and too much. That is what could derail us."
The greenback gained after a Labor Department report showed that payrolls rose in December as wages jumped the most since 2009. The dollar has climbed more than five percent since Donald Trump's victory in the presidential election increased expectations of fiscal stimulus, while Federal Reserve officials projected they'll lift interest rates three times in 2017. A stronger currency could pressure U.S. exports, hurting the manufacturing industry that Trump promised to revive.
Factory workers helped fuel Trump's surprise win in November. And the latest jobs report showed why many feel they aren't sharing in the nation's prosperity, according to Danny Blanchflower, an economist at Dartmouth University who appeared with El-Erian on BTV. He pointed to data showing blue-collar workers had more modest wage gains than the rest of the labor force.
"I think we're a long way away from happy days," said Blanchflower.
The participation rate, which shows the share of working-age people in the labor force, was 62.7 percent and has been hovering close to the lowest level in more than three decades. Still, the U.S. added 156,000 jobs in December, following a 204,000 rise in November that was bigger than previously estimated.
'Cyclically Robust'
"This is a cyclically robust labor market but a structurally challenged labor market," said El-Erian, who is also a Bloomberg View columnist. "It looks good cyclically, but structurally -- whether you look at the employment-to-population rate or labor-participation -- we're still challenged."
El-Erian said increased infrastructure spending, tax reform and well-conceived deregulation could provide immediate help. Beyond that, the nation needs to create a more skilled workforce with people able to take on new roles in a shifting economy.
"That speaks to long-term elements," he said.
Before it's here, it's on the Bloomberg Terminal.
LEARN MORE