Carney Brexit Team Still Needs New BOE Deputy Chosen by Hammond
By
Chancellor to announce replacement for BOE's Minouche Shafik

Brexit's impact on banks seen dominating successor's inbox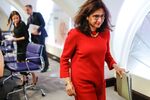 Mark Carney's Brexit team is waiting for a key player just weeks away from the start of the season.
Chancellor of the Exchequer Philip Hammond must soon make his first major Bank of England appointment with Minouche Shafik departing as deputy governor for markets and banking in less than two months. Her replacement will look after Britain's financial industry through the divorce from the European Union and take charge of a wide-ranging mandate, including voting on interest rates and representing the bank in global forums.

Economists see no clear favorite to follow the former International Monetary Fund official. Internal contenders that could be directly promoted to the role include Chris Salmon, executive director for markets, and Andrew Hauser, executive director for banking, payments and financial resilience. But that may not satisfy those who cite a lack of female policy makers at the BOE, and those who argue that Brexit dictates a candidate with more experience of international negotiations.
"This is a very difficult role to fill given what's coming," Grant Lewis, an economist at Daiwa Capital Markets and a former Treasury official, said in a telephone interview. "Every appointment is now viewed through this Brexit prism. I don't necessarily envy the person taking the role."
Brexit Team
Lewis spoke just after the U.K. ambassador to the EU unexpectedly resigned following criticism from pro-Brexit supporters. Carney has been building up his team working on Brexit issues as the government plans to trigger formal negotiations on leaving the bloc by the end of March.
An announcement on Shafik's successor will be made in due course, a Treasury spokesman said, without giving any further details. A BOE spokesman declined to comment.
As well as managing the balance sheet, the successful candidate will look after the central bank's market operations, the government's foreign exchange reserves, the U.K.'s large-value payment system, and the gathering of market intelligence. Together with Deputy Governor for Financial Stability Jon Cunliffe, Shafik's replacement will be responsible for the BOE's international strategy and represent the central bank on several global forums.
"It's an incredibly broad remit," Chris Hare, an economist at Investec Plc in London and former BOE official, said in a telephone interview. "It favors someone who knows about markets and who has a wide network of contacts in important places in the financial world. But ultimately you've got to be a good economist as well."
Fresh Talent
Selecting a candidate will require Hammond to weigh up injecting fresh talent into the central bank from outside against the need for technical expertise, which would favor someone who already works for the BOE. Salmon and Hauser would be "pretty solid" choices if promoted to the role, according to Hare.
Treasury mandarins with enough seniority for the job might include Chief Economic Adviser Dave Ramsden, who attends rate-setting meetings as the finance ministry's representative, Permanent Secretary Tom Scholar, Second Permanent Secretary Charles Roxburgh, and Director General for Financial Services Katharine Braddick, though the last three have been in their roles for less than a year.
However, the appointments of John Gieve and Rachel Lomax more than a decade ago raised eyebrows, with one lawmaker worrying that the BOE was "a kind of retirement home" for the Treasury. Sending a government official to the central bank may also raise concerns about its independence after a year in which politicians accused the BOE of scaremongering over the decision to leave the EU.
Gender Criticism
Hammond will also need to balance the fact that Shafik's departure has the potential to reignite criticism about the gender imbalance at the central bank's top tier. As the most senior female policy maker, her exit will leave the nine-member interest-rate setting committee with just one woman, Kristin Forbes. That may mean applications from women are "at the top of the pile" of those being considered by the government, Hare said.
Brexit will dominate the selection process and favors someone with governmental experience of international liaising, according to Steven Bell, an economist at BMO Global Asset Management in London and a former Treasury official.
"Everything else pales into insignificance," Bell said in a telephone interview. "It's important they're a real expert and are a good negotiator."
Shafik, 54, will leave at the end of February. Her five-year term was due to end in 2019 but she resigned to become director at the London School of Economics, starting in September. Applications to be her successor, a role that offers an annual salary of 270,000 pounds ($332,500), closed in November.
"It'll be someone from outside the bank, preferably with a bit more financial markets experience or knowledge," Lewis said. "It's probably going to be someone that very few people have thought of."
— With assistance by Tim Ross, and Lucy Meakin
Before it's here, it's on the Bloomberg Terminal.
LEARN MORE