Why an Infrastructure ETF May Be a Bad Way to Play an Infrastructure Boom
Fund names belie their contents.
By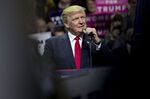 When the president-elect pledged to facilitate a $1 trillion infrastructure-spending binge, exchange-traded funds with "infrastructure" in their name seemed like a sound way to cash in.
But that narrative was upended on Wednesday when the biggest product in that category — the iShares Global Infrastructure ETF (IGF) — suffered over $161 million in outflows; its largest one-day withdrawal on record.

Those hunting for the proximate cause of this exodus are less likely to find it in the taunts Donald Trump lobbed at Senate Democratic leader Chuck Schumer, who has expressed support for the future president's infrastructure plan, than in the realization that with these funds, the wrapping paper often belies the present.
"Infrastructure ETFs seem like the perfect way to play a Trump administration, but the caveat is they are loaded with utility companies, which tend to be vulnerable to rising interest rates," notes Eric Balchunas, ETF analyst at Bloomberg Intelligence. "Don't judge a book by its cover, and don't judge a thematic ETF by its name."
In the week after the election, the volume of shares traded in IGF increased fivefold, with the product receiving its largest-ever inflow last month.
Yet over 50 percent of IGF is weighted towards electric and pipeline companies — typically prized for their defensive properties. Less than 16 percent of it is allocated in the engineering and construction companies which form the more growth-sensitive segment of the market, and which may be in line for contracting windfalls.
For that reason, the spike in Treasury yields linked to the election results wreaked havoc with the iShares Global Infrastructure ETF, sending shares 6.5 percent lower in the four sessions following Nov. 8.
That's before you take into account the fact that more than 60 percent of IGF's holdings are based outside the U.S. — an exposure that underlines why this product isn't a pure play on the reconstruction of American highways and bridges.
Before it's here, it's on the Bloomberg Terminal.
LEARN MORE