U.S. Consumer Comfort Gauge in 2016 Was Strongest in Nine Years
by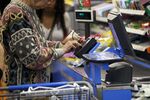 American households were more upbeat last year on average than at any time since 2007, according to figures in the Bloomberg Consumer Comfort Index released Thursday.
Key Points
Comfort measure averaged 43.6 in 2016, up from 42.9 a year earlier and the best reading since 44.8 in 2007
Last week, consumer comfort index eased to 45.5 from 46
Gauge of national economy drifted to 40.4 last week from 41.2
Personal finances measure little changed at 56.3 after 56
Buying-climate index fell to 39.9 from 40.9
Big Picture
Despite an easing in sentiment last week, households remain upbeat. They've become more sanguine about the economy's prospects since President-elect Donald Trump's victory in November and the latest industry reports on motor vehicle sales show they're putting their money where their mouths are. While purchases are projected to slow in 2017 after an unprecedented seventh-straight year of gains, December deliveries at General Motors, Ford and Nissan were better than projected. Further gains in sentiment, particularly among lower-income groups, will depend in part on how quickly the Trump administration can deliver on goals of greater job and wage growth and reducing tax burdens.
The Details
Comfort gauge of Democrats jumped to 56.1, the highest since February 2001, from 53.8
Measure of sentiment among consumers in Northeast rose to highest since September 2015
Confidence of those earning more than $50,000 a year eased for second week, though it's still hovering near best level since March 2007
Before it's here, it's on the Bloomberg Terminal.
LEARN MORE