U.K. Should Introduce Canadian-Style Visa System, Panel Says
By
Region-specific visas would help boost social integration

Immigration controls are a key part of May's Brexit strategy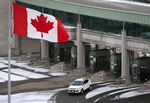 Britain should introduce a Canadian-style immigration system to help ease the conflict at the center of the Brexit debate, a panel of lawmakers said.
Such a system would devolve decisions over immigration, allowing local administrations to set quotas based on "economic and cultural needs," the All Party Parliamentary Group on Social Integration said in a report published Thursday. It also said migrants should have to learn English and urged the government to promote awareness of U.K. laws, tradition and culture.
"It's clear that immigration has impacted on different communities in different ways and the pace of change has alarmed many," said Chuka Umunna, the opposition Labour Party lawmaker who heads the committee. Government immigration policy should be "a middle way between the laissez-faire multiculturalism favored by successive British governments and the assimilationist politics of the French Burkini ban."
Immigration was a key reason why Britons voted last year to leave the European Union and Prime Minister Theresa May has pledged restrictions as she prepares to trigger formal Brexit talks by the end of March.
The feeling is not shared by all. Scottish First Minister Nicola Sturgeon advocates the U.K. remaining in the European Economic Area, which ensures the free movement of people, while London Mayor Sadiq Khan has said he wants a bespoke immigration policy for the capital to avoid a "chronic skills shortage."
Net migration stood at a near-record 335,000 in the 12 months through June 2016, the latest official figures show. May's government has said it wants to reduce it to below 100,000.
Before it's here, it's on the Bloomberg Terminal.
LEARN MORE