Megyn Kelly Replaced by Tucker Carlson in Fox News Lineup
By
Martha MacCallum will get turn in anchor chair in 7 p.m. slot

Network attempts to adjust to Kelly's departure for NBC News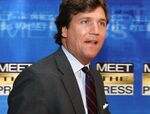 Fox News host Tucker Carlson will move to a later time slot to replace departing anchor Megyn Kelly, leaving the top-rated news network without a permanent female anchor in prime time.
"Tucker Carlson Tonight" -- itself a replacement for a show featuring former Fox News personality Greta Van Susteren -- will move to 9 p.m. New York time weekdays, the network said Thursday in a statement. In the new prime-time lineup, Carlson is preceded by Bill O'Reilly and followed by Sean Hannity.
The moves will fill a hole that opens up after Kelly's last show on Friday following her decision to move to NBC News. It doesn't resolve the question of whether Fox will try to find a woman to match the appeal of Kelly, who was often the network's second-highest-rated anchor behind O'Reilly.
For now, Fox is giving morning news anchor Martha MacCallum the 7 p.m. time period, Carlson's former slot, where she'll host "The First 100 Days," a program devoted to the beginning of President-elect Donald Trump's term in the White House.
Securing the right lineup of evening anchors is important for Fox News to maintain the loyal following that helps it dominate rivals CNN and MSNBC in the ratings. The network is one of the biggest profit centers for parent company 21st Century Fox Inc., the media giant controlled by Rupert Murdoch.
Fox News has maintained its lead in the ratings race despite an internal crisis last year, when its head Roger Ailes was accused of sexual harassment, leading to his departure from the network he co-founded. Gretchen Carlson, who sued Ailes, left the network and was paid a $20 million settlement by Fox News. Van Susteren left in September, though it wasn't clear her departure was related to the accusations against Ailes.
Kelly, whose departure was announced this week, also said that Ailes had harassed her.