Trump Has Tough Act Ahead in Following Obama Hiring Streak
By
December jobs report to show sixth annual gain above 2 million

Payroll growth seen softening in 2017 while wages accelerate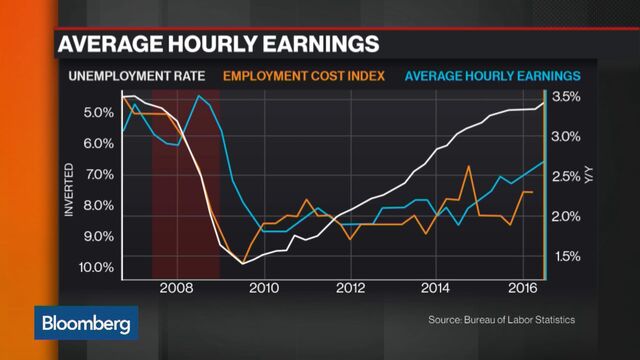 President Barack Obama is poised to hand off the best stretch of job growth since the 1990s to Donald Trump. Sustaining it, let alone taking it up another notch, will be tough.
The economy added 180,000 workers last month after 178,000 in November, according to the median estimate of economists surveyed by Bloomberg ahead of Friday's report from the Labor Department. That would bring 2016's advance to almost 2.2 million, the sixth straight year of job gains exceeding 2 million and the longest such streak since 1999, when Bill Clinton was president.
With the jobless rate falling to a nine-year low in November, the labor market is at or near the Federal Reserve's maximum-employment objective and may strengthen somewhat further, policy makers noted at their December meeting. While there's some scope to draw more Americans back into the job market, worker shortages may become frequent and employers will probably need to give out bigger pay increases. That means 2017 may be the year when wages visibly take off while hiring cools, albeit to a still-decent pace.

"The labor market continues to tighten and the supply of available labor continues to dwindle," said Stephen Stanley, chief economist at New York-based Amherst Pierpont Securities LLC. "It's going to be increasingly difficult for firms to find workers."
The tight labor market raises the bar for Trump to make good on his campaign promise of creating 25 million jobs in a decade, which amounts to 2.5 million additional positions a year. That's well above the 1.98 million total that analysts expect for 2017, based on forecasts of monthly payrolls slowing to an average 165,000 this year. They see the pace of hiring softening further in 2018. Yet Trump's goal means hiring would have to ramp up instead, to about 208,000 a month.
'Tall Order'
"It's a very tall order," Stanley said. "We'd need to make some pretty important fundamental changes to the economy" to achieve Trump's target. "It's not 100 percent impossible, but a lot of things would have to go right for us to get anything close to that."
Among the requirements, according to Stanley, would be faster economic growth, corporate tax reform to provide incentives for businesses to take on additional workers, and a rise in the labor force participation rate that's up against longer-term headwinds including an aging population.
The participation rate, which shows the share of working-age people either employed or looking for a job, slid to 62.7 percent in November and has been hovering near the lowest level since 1977. While the longer-term slide is mainly due to retiring baby boomers, better employment prospects may draw more people into the workforce or limit unemployed Americans from getting discouraged and dropping out.
Meanwhile, qualified workers are taking advantage of the tightening labor market to seek higher pay. Average hourly earnings rose 2.8 percent in December from a year earlier, according to the Bloomberg survey median. That would match the fastest gain since 2009 and follow a 2.5 percent rise in the prior month.

A timing issue that subdued the wage advance in November may have been reversed last month. The Labor Department surveys employers for the week that includes the 12th of the month. Since the survey week ended on Saturday, Dec. 17, it would have taken into account the people who get paychecks twice a month, including one normally paid out around the 15th.
Apart from monthly gyrations, analysts expect worker pay to do even better this year.
"Ultimately, the underlying story is strong: We expect wage growth to push above 3 percent in 2017, not far off pre-crisis highs," James Smith and Viraj Patel of ING Groep NV wrote in a report.
The optimism underscores the shift under way in the labor-market recovery, which was defined by years of wage stagnation while strong payrolls growth remained the predominant mark of progress. Now, with the economy likely to add jobs at a slower pace, a sustained acceleration in paychecks will be key to boosting aggregate household income, which is a function of jobs, hours and earnings.
Jobless Rate
Already, payrolls have been softening. Economists' median estimate for December job gains puts the monthly average for last year at 180,000, after 229,000 in 2015 and 251,000 the year before that. That's hardly a cause for concern, as economists reckon the U.S. needs to add about 100,000 jobs a month to keep pace with population growth and to hold the unemployment rate steady at current levels.
A report Thursday from ADP Research Institute showed private payrolls climbed a less-than-forecast 153,000 in December after a revised 215,000 gain.
Friday's report may also show the jobless rate ticked up to 4.7 percent from the prior month's 4.6 percent that was the lowest since 2007, according to the Bloomberg survey median. While the November figure partly reflected a drop in the labor force, economists say that may have been reversed last month as more Americans got off the sidelines.
Consistent with that expectation, minutes of the Fed's December meeting, released Wednesday, said some officials "saw the possibility that an extended period during which labor markets remained relatively tight could continue to shrink remaining margins of underutilization." That includes prime-age Americans returning to the workforce and part-time workers getting full-time jobs, the Fed said.
Before it's here, it's on the Bloomberg Terminal.
LEARN MORE