Trump Hits Toyota on Mexico as Car Criticism Spreads to Japanese
John Lippert and Mike Dorning
President-elect tweets 'NO WAY!' to planned Corolla plant

Toyota's peer Nissan doubts Trump wants border to be closed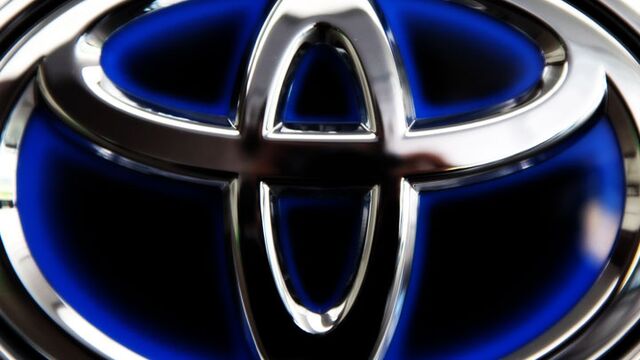 President-elect Donald Trump launched his latest Twitter missive over Mexico-built and imported cars toward a Japanese automaker for the first time, threatening to tax Toyota Motor Corp. into building a plant in the U.S. instead.
Days removed from Ford Motor Co. canceling a $1.6 billion plant in Mexico, Trump seized on a 20-month-old announcement by Toyota of a factory scheduled to build Corolla compacts beginning in 2019. After misstating that the new plant will be built where Toyota already has a production site, Trump followed with "NO WAY! Build plant in U.S. or pay big border tax."
Trump's attacks on the auto industry are in keeping with his pledges to revive U.S. manufacturing that has steadily migrated to countries with cheaper labor for decades. He targeted General Motors Co. earlier this week for building a version of its Cruze compact south of the border, and Ford's move on Tuesday after months of criticism closely followed a decision by United Technologies Corp.'s Carrier in November.
The offensive against Mexico by Trump is reverberating oceans away weeks before he takes office. Nissan Motor Co., Toyota's biggest Japanese peer and the top auto producer in Mexico, is fine with the president-elect's "America first" stance, Chief Executive Officer Carlos Ghosn said in an interview.
'Fair Share'
"I'm hearing 'We in the U.S. have a very large market, and we want our fair share of the benefits both in terms of trade and jobs,"' Ghosn said Thursday from the CES 2017 trade show in Las Vegas. "I'm not hearing 'close the border.'"
Toyota builds Corollas from a factory in Mississippi and had produced more than 500,000 units as of early 2015. The automaker broke ground last month on a plant in Apaseo el Grande, Guanajuato, will add capacity for the model without leading to decreased production or employment in the U.S., according to a statement released after Trump's tweet.
"With more than $21.9 billion direct investment in the U.S., 10 manufacturing facilities, 1,500 dealerships and 136,000 employees, Toyota looks forward to collaborating with the Trump Administration to serve in the best interests of consumers and the automotive industry," the company said in a statement on its website.
Toyota already has a factory in Mexico's Baja California state that borders the U.S., making Tacoma pickups. Trump incorrectly stated in his tweet that the Corolla plant would be built in Baja.
Toyota shares fell as much as 3.1 percent in early Tokyo trading, the biggest intraday decline in two months.
For a look at why Trump tariffs on Mexican cars probably won't stop job flight, click here
Hours before Trump's tweet, Toyota President Akio Toyoda said he'd take the president-elect's decisions into account when planning the automaker's Mexico operations, in response to a question about Ford scrapping its factory. The grandson of Toyota's founder told reporters at a New Year's event he's always thinking about boosting U.S. production, regardless of the political situation in the country.
Toyota and Nissan are among nine automakers that have announced more than $24 billion in investments in Mexico since 2010, lured by its cheap labor and free-trade agreements with the U.S. and more than 40 other countries.
The press office of Mexico's economy ministry, which handles trade and foreign direct investment issues, declined to comment.
Ghosn, 62, has plenty of experience with border issues: He was born in Brazil to parents who immigrated from Lebanon. In addition to holding passports for those countries, he also has one for France and is CEO and chairman of Renault SA. So despite having built 830,000 vehicles in Mexico in 2015 and having a joint plant under construction there with Daimler AG, the executive said Nissan isn't worried.
"I'm not afraid," Ghosn said. "At the end of the day, the facts and reality will prevail."
— With assistance by Eric Martin, and Masatsugu Horie
Before it's here, it's on the Bloomberg Terminal.
LEARN MORE