Investors Are Starting to Get Nervous About Some Popular Trump Trades
By and
Cost of S&P downside protection rallying from multi-year lows

A departure from first leg of rally, when hedging was ignored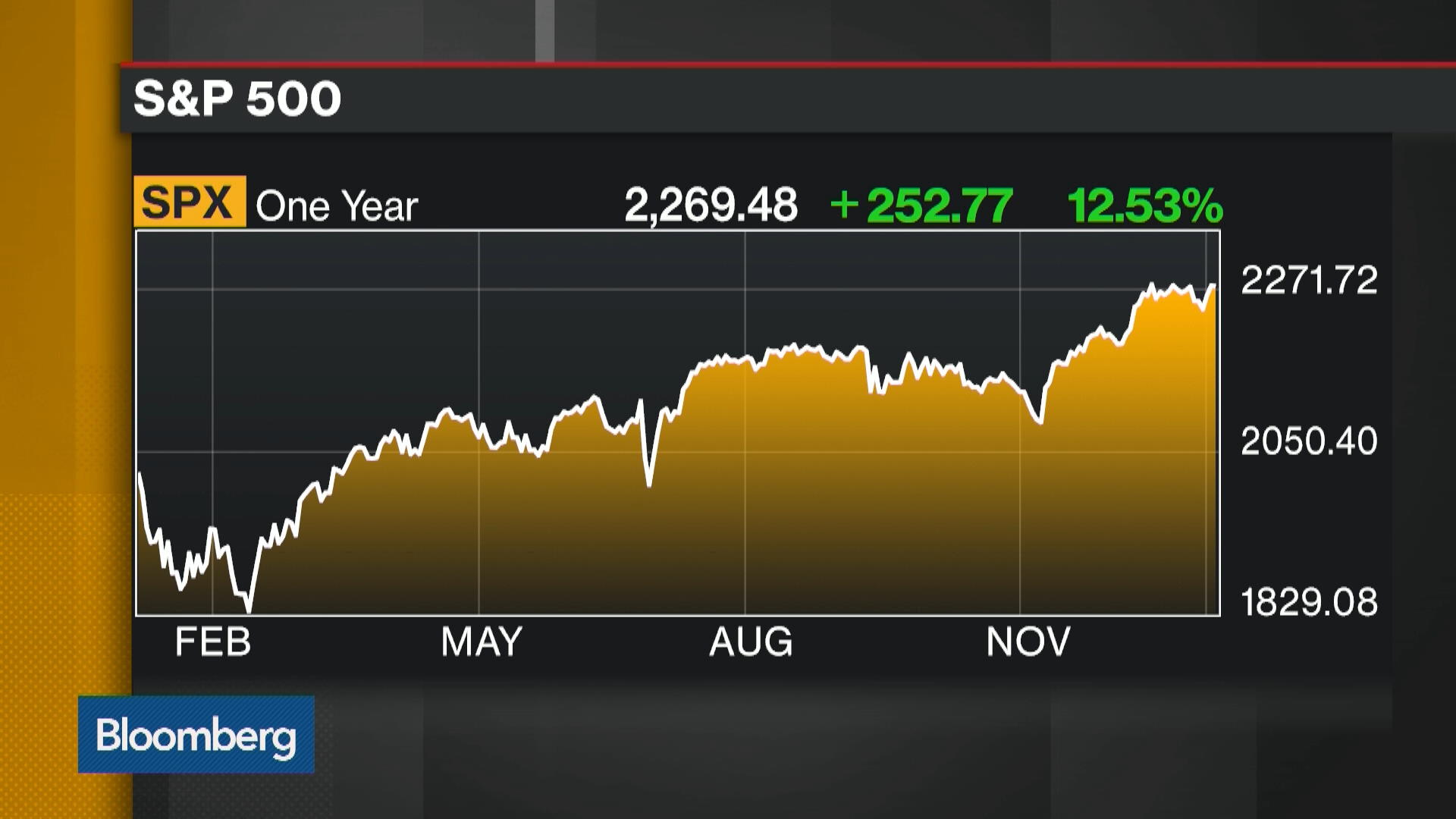 For all the euphoria that's run rampant in U.S. stocks since Donald Trump's election, a bit of skepticism is creeping in, too.
After falling to multi-year lows amid the rally that has added $2 trillion to share prices, hedging costs on the S&P 500 Index just jumped back to their bull market average. Meanwhile, shares outstanding are sitting near record highs on a handful of exchange-traded volatility notes that benefit as price turbulence increases.

While framing anything as bearish in this market may be a stretch, a hint of anxiety is evident alongside a rally that just notched its best two-day advance in a month. Options markets used mostly for hedging stocks are seeing an uptick in interest a week before what's supposed to be the strongest earnings season in more than a year.
No such investor concern was visible during the first leg of the Trump rally, from Election Day through early December, a stretch in which the S&P 500 gained in 15 of 22 days and the volume of bullish options surged.
"Everybody is hoping for booming earnings," Jim Bianco, founder of Bianco Research LLC, said in an interview on Bloomberg TV. "I have doubt on that. And with higher interest rates and disappointing earnings, that's the cocktail for struggling markets."
The S&P 500 slid 0.1 percent to 2,269.14 at 9:36 a.m. in New York.
Profit forecasts are ambitious. Getting to the 4 percent growth projected by analysts for the fourth quarter would require the biggest increase since late 2014. For the first quarter of this year, analysts are calling for a gain of 13.4 percent, the most since 2011.
Trader caution can be seen in a quiet shift among S&P 500 industry leaders, with areas like financials and industrials giving way to defensive sectors like telecom and utilities over the last month. 
It's possible that's a reaction to economic data that, while largely in line with expectations, hasn't shown marked improvement relative to history. On Tuesday, a report showed American manufacturing grew in December at the fastest pace in two years, yet the measure still trails levels seen during most of 2014. The last reading of U.S. gross domestic product also trailed levels seen in recent years, despite beating estimates and rising from the prior period.
Here are some statistics showing that investor skepticism is mounting in the equity market:
Premium being paid to protect against 10% loss in SPDR S&P 500 ETF in next 3 months hit 2 1/2-year low relative to bets on 10% gain on Dec. 13; has since rebounded to less than half a percentage point from the measure's bull market average
Ratio of puts to calls on S&P 500 slipped to 3-year low on Dec. 20; has since risen and now sits just 7% below bull market average
Before it's here, it's on the Bloomberg Terminal.
LEARN MORE