Nissan CEO Hears Trump Say 'America First,' Not Close the Border
By
Carlos Ghosn in interview says 'we're fine' with policies

Japanese carmaker is Mexico's biggest producer of new vehicles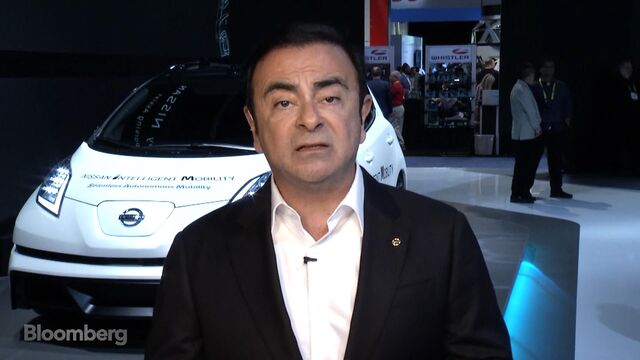 Nissan Motor Co. Chief Executive Officer Carlos Ghosn has two words for Mexico-bashing President-elect Donald Trump: message received.
"I'm hearing 'We in the U.S. have a very large market, and we want our fair share of the benefits both in terms of trade and jobs,"' Ghosn, who runs Japan's second-largest automaker, said in an interview Thursday from the CES 2017 trade show in Las Vegas. "I'm not hearing 'close the border."'
Trump has taken aim at two of Nissan's biggest peers in three days, criticizing Toyota Motor Corp. for its plans to build a Corolla factory in Mexico and General Motors Co. for importing a version of its Cruze compact. Nissan is among nine automakers that have announced more than $24 billion in investments in Mexico since 2010, lured by its cheap labor and free-trade agreements with the U.S. and more than 40 other countries.
As Mexico's top auto producer, Nissan would feel the pain more so than any carmaker if Trump follows through on his threats to slap a border tax on vehicles. Trump criticized Ford Motor Co. repeatedly on the campaign trail for its plan to move small car production south of the border. On Tuesday, Ford said it would cancel plans to build a $1.6 billion plant in the country.
Ghosn, 62, has plenty of experience with border issues: He was born in Brazil to parents who immigrated from Lebanon. In addition to holding passports for those countries, he also has one for France and is CEO and chairman of Renault SA. So despite having built 830,000 vehicles in Mexico in 2015 and having a joint plant under construction there with Daimler AG, the executive said Nissan isn't worried.
"What the president-elect is saying is America first," Ghosn said. "We're fine with that."
Before it's here, it's on the Bloomberg Terminal.
LEARN MORE