U.K.'s May Tries to Charm Trump, Hoping for Early 2017 Meeting
By and
Premier's chiefs of staff made secret trip to U.S. in December

May wants spring visit with new president but no date yet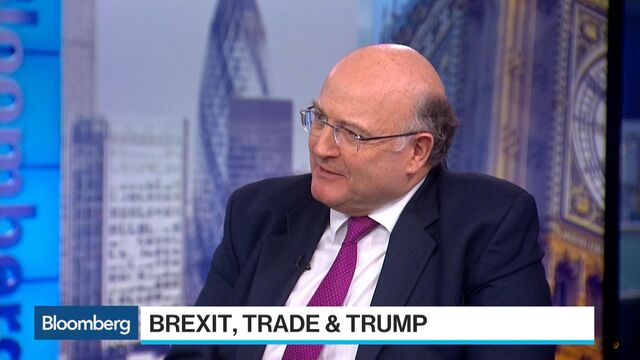 U.K. Prime Minister Theresa May has started a behind-the-scenes charm offensive to build bridges with Donald Trump but has so far failed to pin down a date for the early meeting she wants with the incoming President.
May plans to travel to Washington at some point in the spring, her office said in an emailed statement late on Thursday, though no firm timing has been agreed.
"The prime minister suggested it would be a good idea for key staff from both teams to meet. President-elect Trump agreed this would be useful," the premier's office said. "We are pleased to have been able to make that happen and the prime minister looks forward to visiting the new president in the spring."
In an effort to improve her links with Trump after a frosty start to the relationship, May sent her two most senior aides, Nick Timothy and Fiona Hill, on a secret trip to the U.S. in mid-December to meet members of his team, her office said.
The premier's joint chiefs of staff, Hill and Timothy, are regarded in London as May's most powerful advisers, holding huge influence over the government of the U.K. That May chose to send them both together to meet Trump's team demonstrates the importance she places on building links with the new White House as the U.K. looks to expand trade with the U.S. after it withdraws from the European Union.
May's secretive efforts extend well beyond the visit of Timothy and Hill, according to people briefed on the meetings.
Bannon, Kushner
May has also dispatched senior U.K. officials, including defense and foreign policy aides to meet with Trump's incoming national security adviser, retired Lieutenant General Michael Flynn; Trump's chief strategist, Steve Bannon; and Trump's son-in-law, Jared Kushner, according to people briefed on the meetings. 
The meetings reflect Trump's very high priority on the relationship with the U.K., they said. Many other world officials have been meeting with Trump's chief aides, as well, the people said.
"It's entirely appropriate for the British prime minister and the American president, whoever they are, whichever parties they are, to have a good working relationship," former Justice Secretary Michael Gove, who vied with May for the leadership last year, told Sky News. "That doesn't mean that they have to be figures in a romance. It simply means they need to manage the relationships, which are deep and enduring between these two countries, in the best interests of both countries."
Twitter History
May is attempting to recover lost ground. The prime minister suffered the personal embarrassment of being outflanked by her political rival Nigel Farage, the former U.K. Independence Party leader, who met Trump within days of his victory in November. She was then forced to reject Trump's controversial suggestion that Farage -- who is close to key members of the president-elect's team -- should be made U.K. ambassador in Washington.
In December 2015, May, who was then Britain's home secretary, criticized Trump's proposed ban on Muslims entering the U.S. as "divisive, unhelpful and wrong."
Timothy and Hill had their own work to do on the trip. Before they took up posts in May's new government in July, Timothy said on Twitter that he did not want "any 'reaching out' to Trump," while Hill tweeted: "Donald Trump is a chump."
Farage cast doubt on whether Hill and Timothy had met Trump's most senior advisers. May's office did not disclose who was present at the meetings last month. "It seems to me that whatever spin No.10 is trying to put on this tonight, we are no nearer officially having a closer relationship with Trump's team," Farage said on LBC Radio.
State Visit
U.K. officials are said to be concerned at their poor links with the incoming U.S. administration at a time when Britain is looking to expand trade after Brexit. There are signs Trump, who has a Scottish mother, may be a willing partner. Whereas Obama said Britain would be "at the back of the queue" to secure a trade deal with the U.S., Trump told Farage Britain would be "at the front."
In a sign May seeks to foster ties with with the incoming administration, she criticized outgoing U.S. Secretary of State John Kerry for his condemnation of Israeli policy in December. Trump has slammed President Barack Obama's foreign policy and promised more support for Israel.
In private, U.K. officials complain that Trump's team is not giving them any notice of its intentions. It took Trump more than a day to speak to May by phone after his election victory in November. On that call, he invited the premier to visit Washington as soon as possible.
In an effort to strengthen ties with the new White House, May's office has said it is considering inviting Trump on a state visit to the U.K. this year, during which he would stay as a guest of Queen Elizabeth II at Buckingham Palace in London.
— With assistance by Thomas Penny
Before it's here, it's on the Bloomberg Terminal.
LEARN MORE