markets
Kenya Senate Passes Election-Law Change Amid Protests Threat
By
Opposition group says changes could enable ballot-rigging

Nation is preparing to hold general elections in August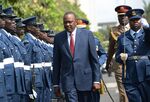 Kenya's Senate passed contentious amendments to the nation's election laws that the opposition says could aid the ruling party rig a ballot to be held in August.
The amendments to the electoral law provide for a manual mechanism for voter registration and transmission of the results as a back-up should electronic methods fail. The Coalition for Reforms and Democracy, Kenya's main political opposition group, says the changes may open the electoral system to abuse by enabling the registration of dead people or under-aged voters.
The proposed changes were approved by the National Assembly last month. CORD, led by ex-Premier Raila Odinga, has threatened nationwide protests should President Uhuru Kenyatta sign the amendments into law. 
Kenyatta, 55, is seeking a second term at general polls on Aug. 8. He won the 2013 presidential elections with 50.07 percent, followed by Odinga, who got 43.3 percent.
'Contentious Campaign'
The passing of the laws without bipartisan support signals that East Africa's biggest economy is in for a contentious election campaign, according to Ahmed Salim, a senior associate at Teneo Intelligence in Dubai.
"The key risk with amendments to electoral laws like the one passed is diminishing trust in Kenya's institutions," he said in an e-mailed response to questions. "This lack of credibility could trigger significant social unrest if the August polls are close or contested, which is highly likely."
Kenya's disputed elections in December 2007 triggered two months of ethnic clashes that left at least 1,100 people dead and forced 350,000 people to flee their homes.
CORD said its members will meet on Jan. 11 to discuss the group's next course of action.
"The law that was steamrolled yesterday lays a firm foundation for stealing the elections," Moses Wetangula, a senator affiliated with CORD, told reporters Friday in the capital, Nairobi.
The Independent Electoral and Boundaries Commission said that there was a misconception that it would be using a manual system. The agency was "enthusiastic" about using technology, according to Andrew Limo, a spokesman.
"Our strategy is to give credible elections, to prevent any fraud in elections," he said by phone. "This issue has been blown out of proportion."
(
Updates with opposition group's comment from eighth paragrph.
)
Before it's here, it's on the Bloomberg Terminal.
LEARN MORE