Charts Show Euro Long-Term Inflation Expectations May Be Overdone
by
Spread compression momentum seems poised to accelerate

Longer-maturity inflation swaps test major resistance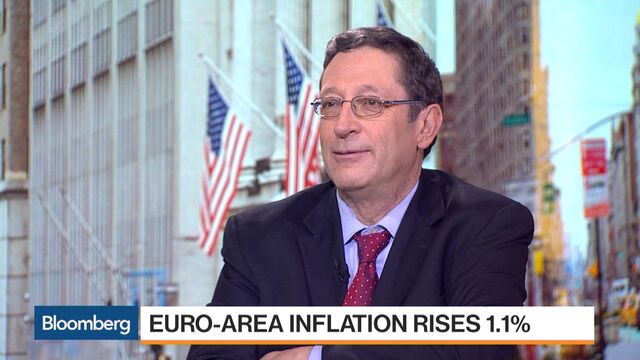 Investor expectations for a sustained acceleration in euro-area price increases may have been overdone, with technical indicators underscoring the risk of a reversal in the rally in longer-dated inflation swap rates.
The euro area's inflation curve steepened in the fourth quarter of 2016 as investors boosted their outlook for longer-term inflation in the wake of an energy price rally and the election of Donald Trump. With that move already starting to fade, the current chart and technical setup point to a continued narrowing bias.
Zero-coupon inflation swaps, a gauge for market-implied price expectations, show that difference between five- and 30-year rates is back below the 200-day moving-average of 74 basis points, trading near levels seen before Trump secured the U.S. presidency in early November. The early year flattening theme is being reinforced by the down-slanting moving average and more negative daily readings on the MACD histogram study. The spread compression may test the September low at 66 basis points with Fibonacci levels providing possible interim supports at 72 and 70. A move above 81 basis points would question the flattening technical outlook and expose further widening risks.

While the short-end has driven most of the curve widening since early September, helped by a weaker euro and higher oil prices, any upcoming flattening pressure may originate from the over-extended long-end of the curve as it grapples with key technical hurdles within the 1.96 percent to 2.01 percent area. With a high bar for Trump to deliver on policies aimed at stoking growth and inflation, any disappointment may have a more pronounced effect on the long-end of the inflation market.
Trump aside, long-end inflation also continues to be subject to structural disinflationary pressures from technology, demographics and from lackluster euro-area wage growth. Such risks to consumer price growth partly explain the rising gap between energy-led headline and stubbornly-low core inflation which ultimately may weigh on prices if purchasing power is eroded.
The monthly chart of the thirty-year inflation swap rate is currently testing the lower bound of the ichimoku cloud and the 2010 low at 1.98 percent. Slightly above here lies the 2011 low and the 38.2 percent Fibonacci level of the move between that year at 2016 at 2.01 percent, which also may impede further advance.

Other inflation maturity spreads such as the two-, 10-year spread has also narrowed to levels not seen since July, after faltering against the 44 basis-point resistance. The spread may test the 2016 weekly closing low at 23 basis points, versus the current level of 31.

NOTE: Sejul Gokal is a technical strategist who writes for Bloomberg. The observations he makes are his own and are not intended as investment advice.
Before it's here, it's on the Bloomberg Terminal.
LEARN MORE