China's Airpocalypse Paves a Path for New Cancer Medicines
Bloomberg News
Chinese companies see huge demand for lung cancer treatments

At least 60 cities have issued air pollution alerts in 2017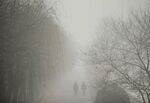 The thick haze of pollution blanketing northern China this winter is a grim reminder of the nation's new growth industry: lung cancer drugs.
China logged more than 700,000 new cases of the disease in 2015, the product of a surge in air pollution, high smoking rates and unhealthy lifestyles as China has prospered in recent decades. Lung cancer is now the most common type of cancer in the country and its spread has spawned new listings as well as billion-dollar market values for Chinese companies like Betta Pharmaceuticals Co. and Hutchison China MediTech Ltd., which are attempting to build blockbuster treatments.
Zhejiang, Hangzhou-based Betta Pharma, which sells just one lung cancer drug called Conmana, shot up to as much as $5.6 billion in market value late last year after raising about $110 million in a public offering on the Shenzhen exchange in November. Hutchison China MediTech, whose pipeline of experimental therapies is also heavily focused on lung cancer, also attracted $110 million in a new listing on the Nasdaq in March.
While oncology is the most active area for drug innovation around the world, the focus on cancer "is compounded by China specific considerations," said Franck Le Deu, senior partner at McKinsey & Co. China faces higher incidence on specific cancers like gastric, lung or liver, he said, and patients and families are willing to pay for any medicine that can help.
Heavy smog has blanketed a third of China's cities, including its capital Beijing, in recent weeks and at least 62 cities have issued health alerts. While the government has shuttered some coal burning power plants and curbed the number of cars over the last few years, such bouts of heavy pollution remain common, especially in the winter months.
Toxic Smog
The World Health Organization's cancer agency has classified outdoor air pollution as carcinogenic, or cancer-causing, for humans. A 2015 analysis by experts at China's National Cancer Center said that while cigarette smoking is the most important risk factor for lung cancer, air pollution has also been determined to have a significant impact in the development of the disease.
China's market for cancer drugs is still dominated by foreign brands from companies like Roche Holding AG and AstraZeneca Plc. But in an attempt to build its own national champions, the government has begun easing financing and regulation for health-care companies.
Betta Pharma said in an e-mail that China's stubbornly high lung cancer incidence and death rates inspired Chairman Ding Lieming to return to China in 2002, armed with a medical doctorate from the U.S., to develop "Chinese people's own anti-cancer drug."
BeiGene Ltd. another Chinese biopharmaceutical company that is working on experimental drugs focused on cancer, also listed its shares on the Nasdaq in February and currently has a $1.2 billion market cap. Hong Kong-based Hutchison China Meditech already had a London listing before its U.S. debut.
"China faces air pollution as it undergoes industrialization, and is going through a stage of high cancer incidence, which America has gone through in the '70s and '80s," said Samantha Du, who represented private equity firm Sequoia Capital LLP's investment in Betta Pharma in 2013.
She believes that treatments for other kinds of cancers also have large markets and Chinese companies that can develop and bring them to market are highly valuable. Betta Pharma says it now has 28 percent of the China market for certain kinds of lung cancer therapies and the company had total revenue of about $143 million in 2015.
China's Toxic Smog Forces Debate on Health Trade-Offs: QuickTake 
New drugs seeking approval in China still face plenty of challenges. China's Food and Drug Administration has cut the backlog of applications awaiting review almost by half, and approval time has begun to shorten. But the process is still taking many times longer than at the U.S. FDA, according to McKinsey. It's also a difficult process for new drugs to be covered by China's public health insurance.
China's drug discovery is still often seen as being limited to "me-better" drugs, or improved versions based on chemicals and treatment targets first identified by foreign researches.
"China's so-called innovation, in fact, free rides on a lot of basic research by American scientists," said Steven Wang, founder of HighLight Capital, a private-equity fund. He has invested in other innovative drugmakers in the country because he believes they have the ability to make money from these drugs because of high demand.
Du said her decision to invest in Betta Pharma, which generated little revenue at the time, faced skepticism.
"But I felt at the time that cancer is a very large market in China, and people estimating the lung cancer market at the time only took into consideration patients who had access to medicines," said Du. In 2014, she started her own drug developer called Zai Lab, whose pipeline also includes a few therapies targeting lung cancer.