Brexit Bulletin: A New Man in Brussels
May moves swiftly to replace EU envoy, seeking to assert control over Brexit amid mounting criticism.
By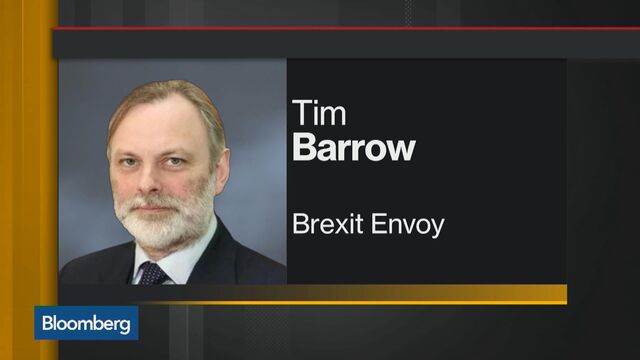 Sign up to receive the Brexit Bulletin in your inbox, and follow @Brexit on Twitter.
Theresa May acted speedily to name a new envoy to Brussels, undoubtedly seeking to quell mounting criticism that she lacks a Brexit plan and a strong enough negotiating team.
Just a day after Ivan Rogers quit in frustration and accused the government of "muddled thinking," former Ambassador to Russia Tim Barrow was appointed in his place.
Barrow, who has previously served as a diplomat in Brussels, joined the Foreign Office in 1986. Prime Minister May called him a "seasoned and tough negotiator," while Barrow said he would work "to ensure we get the right outcome for the United Kingdom as we leave the EU."
One senior figure inside the U.K. government told Bloomberg's Tim Ross the speed with which May acted showed she wanted to regain the initiative and that it also indicated her desire to counter claims she's overseeing a vacuum on Brexit policy.
By picking a career diplomat over the pro-Brexit politician some wanted, May will be hoping to placate disquiet in the civil service that it is being alienated. The union for senior civil servants on Wednesday bemoaned a failure by government to defend "the integrity and capability of the impartial civil service."
The appointment of Barrow was greeted with what looked like a coordinated wave of endorsements from pro-Brexit Cabinet members Boris Johnson and David Davis, again likely an effort to promote a united front. Other "Leave" lawmakers including Steve Baker and Nadine Dorries also backed him. Rogers had faced criticism for being too pessimistic and not supportive enough of Brexit.
Barrow's old boss Charles Crawford, a former ambassador,  told LBC he was no "government patsy," and other current and former diplomats took to Twitter to praise him:
The Daily Telegraph reported May will seek to reassert control over the Brexit process with a speech this month in which she'll warn Britain will walk away from the single market unless it can control its borders.
Sticking to the Script
While the resignation of Rogers suggests planning for Brexit is in disarray in the U.K., the rest of the EU is holding firm.
Maltese Prime Minister Joseph Muscat said on Wednesday that he had never seen "such a convergence within the European family" than on Brexit, according to Reuters.
"I spoke and visited basically all other 26 member states," said Muscat, whose country took over the rotating presidency of the European Council on Jan. 1. There's a "convergence on the attitude toward Brexit," he said.
Manfred Weber, a German Christian Social Union member who leads the center-right European Peoples Party faction in the European Parliament, says negotiations over the U.K.'s exit from the EU can't involve "cherry picking."
Cashing In 
Political parties opposed to the EU are receiving money from the bloc to spread their anti-EU messages in a bumper election year, with a group run by Marine Le Pen's National Front claiming the largest grant awarded to a Euroskeptic organization last year.
In 2016, the Movement for a Europe of Nations and Freedom, led by France's National Front, received €1.55 million ($1.62 million) as part of annual European Parliament grants that are meant to cover as much as 85 percent of parties' expenditures linked to their political goals. A British-led nationalist group, the Alliance for Direct Democracy in Europe, which includes the U.K. Independence Party, was awarded €1.4 million.
The biggest overall grants go to Europe's Christian Democrats and the Socialists, the top two groups in the 28-nation Parliament, receiving €8.68 million and €7.15 million, respectively.



Brexit Bullets
Parliamentary committee calls on governments to introduce region-led immigration system based on visas
Brexit will allow net migration to be halved, Cambridge University study says
Former Prime Minister Tony Blair gives £9.3 million to foundation aimed at opposing populism
Theresa May has "almost non-existent" relationship with German Chancellor Angela Merkel, Daily Telegraph says
Dimon told France it needs to soften labor law to lure bank jobs, says Wall Street Journal
On the Markets
The falling pound is claiming more victims.
The British Chambers of Commerce said on Thursday that businesses will have no choice but to raise prices as a weak sterling forces up the cost of imports. The balance of manufacturers expecting to pass along cost increases to consumers is the highest since records began in 2009, according to a survey.
Still, the U.K. services sector unexpectedly grew at the fastest pace in more than a year in December, underlining the economy's strength at the end of the year, data showed on Thursday.
Separately, the U.S. unit of Transmar Group, which supplies cocoa products to companies including Nestle, filed for bankruptcy as financial turmoil spreads from the firm's European business, which was hit by the pound's fall following the Brexit vote.
And Finally?
Brexit may not yet be "red, white and blue" but Larry the Downing Street cat is already sporting those colors.  The Daily Telegraph reported that Larry is wearing a collar composed of Union Jack flag and suggested it could have been a Christmas present. 
For more on Brexit follow Bloomberg on Twitter, Facebook and Instagram, and see our full coverage at Bloomberg.com
Before it's here, it's on the Bloomberg Terminal.
LEARN MORE