Europe's Populists Accept Millions From EU They Want to Destroy
By
French-led group claims biggest share for euro-skeptic groups

UKIP-backed alliance also taps European Parliament coffers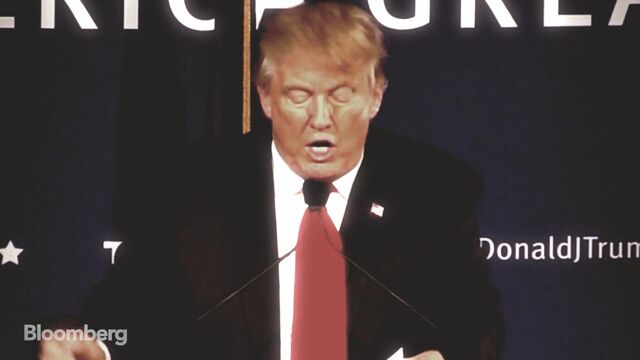 Political parties opposed to the European Union are receiving money from the bloc to spread their anti-EU messages in a bumper election year, with a group run by France's National Front under Marine Le Pen claiming the biggest sum last year.
In 2016, the Movement for a Europe of Nations and Freedom, led by the National Front, received 1.55 million euros ($1.62 million) as part of annual European Parliament grants that are meant to cover as much as 85 percent of EU parties' expenditures linked to their political goals. A British-led nationalist group, the Alliance for Direct Democracy in Europe, which includes the U.K. Independence Party, was awarded 1.4 million euros.
The biggest overall grants go to Europe's Christian Democrats and the Socialists, the top two groups in the 28-nation Parliament, receiving 8.68 million euros and 7.15 million euros, respectively.

As Le Pen hunts for 20 million euros to finance French presidential and legislative campaigns this year, she'll be unable to the rely on the EU Parliament grants, which can't be used for domestic elections.
Such aid is restricted to meeting campaign costs connected to European legislative elections and supporting activities such as conferences, publications and travel linked to a party's general manifesto.
The anti-immigration, anti-euro National Front is struggling to find loans after the Central Bank of Russia revoked the license of the party's Moscow-based lender and French banks refused to offer funding, treasurer Wallerand de Saint Just said last month. The party, which is seeking international financiers in countries including Russia, will borrow 6 million euros from Le Pen's father Jean-Marie Le Pen's political fund.
Marine Le Pen is expected by pollsters to reach the second round of voting in France's presidential election scheduled for April 23 and May 7, with the front runner being Republican nominee Francois Fillon. The French will return to the polls on June 11 and 18 to elect members of the National Assembly, the lower house of the country's parliament.

Le Pen, who is a member of the EU Parliament, is co-head of the Movement for a Europe of Nations and Freedom faction there. The smallest group in the 751-seat assembly, it has 39 members, including 20 from France and four from the Netherlands. The Dutch contingent belongs to the country's Freedom Party, which is led by Geert Wilders.
The EU Parliament group that encompasses UKIP has 44 members, including 20 from Britain and 17 from Italy. The Italian members belong at home to the Five Star Movement founded by comic-turned-politician Beppe Grillo.
Both of these European factions have one EU Parliament member belonging to the German anti-immigration party known as Alternative for Germany, or AfD.
Before it's here, it's on the Bloomberg Terminal.
LEARN MORE