Weight Watchers Shares Surge as Oprah Kicks Off Diet Season
by
Analyst raises price target to $28 on expected marketing boost

The shares have spiked in recent months on Winfrey statements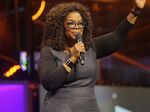 Weight Watchers International Inc. shares rose the most in more than a year after an analyst increased his price target on the stock, saying that a new advertising campaign featuring Oprah Winfrey will help boost profit this year.
The shares advanced as much as 26 percent to $13.99 -- the biggest intraday gain since November 2015 -- after Sidoti & Co. analyst Frank Camma increased his target to $28 from $25. He also maintained a buy rating.
The rally extends a fresh wave of optimism about Weight Watchers, helped by Winfrey's tight association with the company. Late last month, Weight Watchers unveiled a new marketing campaign that featured Winfrey saying she shed more than 40 pounds using the weight-loss program. The winter season, when many consumers make resolutions to lose weight, is a key time for the company, which is trying to mount a turnaround after its shares fell 50 percent last year.
The company "launched its 2017 diet season with a strong marketing campaign featuring the dramatic weight loss of its superstar spokesperson," Camma said in the report.

Winfrey agreed to become a spokeswoman for Weight Watchers in October 2015, when she took a 10 percent stake in the company and announced plans to join the board. That day the shares more than doubled, and her subsequent endorsements of the program have given the stock temporary jolts in recent months. The company also has added subscribers for three straight quarters following years of declines.
Profit Bump?
While Weight Watchers has billions in debt and its stock is heavily shorted, the company's new ads will help it help it post better-than-expected profit in 2017, Camma said. It also doesn't have any debt due until 2020, he said.
Moreover, Weight Watchers could sell more services to employers, government agencies and insurers, Camma said. It benefits from "global consumer brand awareness, scale and the program's positive view among health-care practitioners," he said.
Winfrey's revelation last month that she lost 40 pounds sent the stock up as much as 19 percent in intraday trading on Dec. 22. During an interview with Stephen Colbert on Tuesday the media mogul said that she's now lost 42.5 pounds.
Weight Watchers still has an uphill battle ahead. The company has been hit hard by the rise of free fitness apps, as well as a shift away from strict calorie counting among dieters. But the company expects Winfrey's message to resonate.
"It's vitally important that Oprah is living the program and articulating it in a way that's authentic," Maurice Herrera, head of marketing at Weight Watchers, said last month.
Before it's here, it's on the Bloomberg Terminal.
LEARN MORE